Dec 4
Thursday December 4: Amiens Free Day
Having put all of the ground rules in place the night before and a statement to the kids I would sleep all day, it meant there were no deadlines for the day at all. I had the best sleep so far for weeks and actually slept through to 8.00 a.m. with only one break in the night. I felt like a normal person again. Had a late breakfast then ensconced myself in the breakfast room with laptop to do all this stuff. Then it started to snow! It is very cold today with winds and snow covering most of France. Paris was having a morning temperature of minus 2 degrees! The day saw the groups come in and out doing washing, shopping etc. I stayed in …glorious. We will meet again at 7.00 to walk to the Amiens Cathedral to see the coloured light show. And tomorrow it all starts again as we leave the Somme and head north to Fromelles and to Ieper.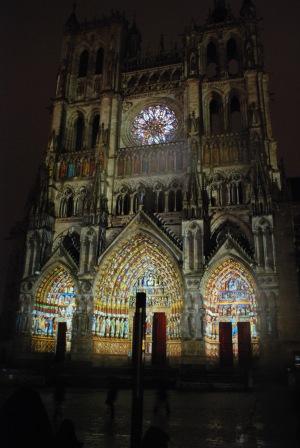 The light show at the Cathedral in Amiens.
This building is usually white marble so the
colour you can see is created by the laser.