Soldiers
The soldiers that we commemorate on our trips come from a variety of sources.
The original inspiration for these trips comes from the four young Ngarrindjeri men who left their homes on the shores of the Lower Lakes and Coorong to fight " for King and Country" on the other side of the world, never to return to their families or country.
Each of the communities that our schools serve have memorials to the young men from the district who made the "ultimate sacrifice" on the battlefields of Turkey, the Middle East, France and Belgium.
With a population of less than 5 million at the time and with 60,000 soldiers lost during the war, almost every family in Australia at that time lost a son, brother, father or cousin in the fighting. A photo kept in an old tin, a story that Grandma used to tell or a pack of letters carefully kept for 90 years may be the only reminders that one of these men was part of our family, part of our own personal story.
However we come across their names, as our students research their lives and the role that they played during the war, each one becomes a member of our family, someone for whom it can be said " We Will Remember Them, Lest We Forget".
To see the full list of soldiers that have been commemorated on every trip, click on the link below. The list will give the name of the soldier, the unit that they served in and their date of death. For more detailed information on each soldier click on their name or photo and you will be taken to their individual page. Not all soldiers have such a page yet but these will be completed in time. If you have any knowledge of these men the information you provide could help us complete the picture that we build of their lives.
The information contained on each page has been obtained from the public domain, through the National Archives of Australia, the Australian War Memorial or through the Commonwealth War Graves Commission. Other information has been obtained through the families of the soldier in question. We publish this information in good faith, but realise that the public record is not always accurate or complete. The same can be said of individual family oral histories. While we make every attempt to provide accurate information, if there is anything on these pages that you know to be untrue, or that may cause offence, please contact us as a matter of urgency.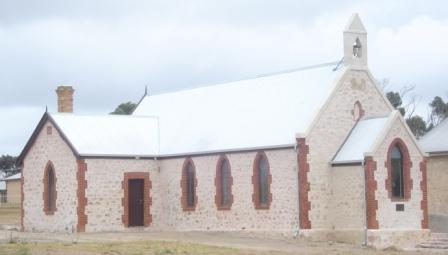 The church at Raukkan where a plaque commemorating the 21 Ngarrindjeri men who fought in the Great War, which inspired the concept of Connecting Spirits, is found. If you think it looks familiar, look carefully next time you have a $50 note.