How to Research A Soldier
"Researching a Veteran's story: Private James Martin Neagle 2233a"
REFER TO:
1. Oborn, O. & Reece, J. 2007 "Connecting Spirits 2006", Openbook Howden Design & Print, Adelaide Chapter 6 pages 153 – 157"
2. Reece, J. 2002, "Journey of Remembrance", Openbook Publishers, Adelaide, page 117, 175 – 180.

"The task of researching a soldier's story is significantly easier today with many excellent websites and sources available to teachers, individuals and organizations. I have compiled a list of sources I regularly use for my own research and for incorporation into the classroom. The list is just a beginning point and by no means complete. For those experienced researchers most of the following material is well known to you: I have collated this for students assuming that they have no prior knowledge of how to start the process." ('Connecting Spirits 2006" page 153)
One of the chapters in our book "Connecting Spirits 2006" was written to assist students, teachers and community members interested in researching the story of a veteran involved and possibly killed in war. The various websites that assist people with their research were given along with other sources of interest.
Over the years of learning about my own WW1 soldier, my great uncle James Martin Clement Neagle, (known as Marty) the gaps of knowledge about this man have slowly been joined. The many postcards, one letter, a couple of photographs and finally his service records have allowed me to gain a sense of his story. To demonstrate the value of the key websites Great Uncle Marty's records will provide a case study of how to research your own soldier. The steps in the process are those listed in Chapter 6 of the book 'Connecting Spirits 2006"
Step 1: Locating a veteran's name (page 153)
I did not have to locate Marty's name as he was part of the oral history of my mother Catherine Royal (nee MacFarlane). Martin was her favourite uncle and when my mother was alive, her memory of this man never faded. The sense of loss and grief stayed with my mother until she died. I wrote of this man's impact on Cathy in my first book "Journey of Remembrance".
Step 2: AWM Nominal Roll (page 153)
The AWM Nominal Roll is an excellent place to begin your research. All who enlisted in the wars are named on the Nominal Rolls and these primary sources provide very useful data on the veterans.
www.awm.gov.au
The details of my great uncle martin from the AWM Nominal Roll are as follows
2233a (service number)
Pte. (rank)
NEAGLE (family name)
James Martin (given names) # (As was the tradition in this era many men were known by their second name )
50th Battalion (allocated battalion or unit number)
11.5.16 (enlistment date)
K.I.A (soldier's outcome – Killed in Action)
18.10.17 (death date)

Step 3: The Service Records of your Australian veteran (page 154)


National Archives of Australia (

www.naa.gov.au

)
The quickest way to access these records is to input the soldiers surname and service number in the keywords box.
However there are times when I have come across difficulties because the surname has been mis-spelt and therefore the file will not come up. Persistence usually works by just entering the service number or by thinking laterally eg typing in birthplace and service number. I have even had succes by typing in a re-married mother's new name and service number.
As stated in the book some of the key documents to study are the:
1. Attestation papers
2. Medical certificate
3. Casualty forms and Active Service
Martin's records reveal his birth place (Port Pirie), age at enlistment (27), his trade ironworker – at the smelters), his mother's name and address (Susan Neagle – Halifax St. Adelaide) and other details related to previous military service. The date of Neagle's enlistment (May 11, 1916) and the battalion also feature, (50th Battalion)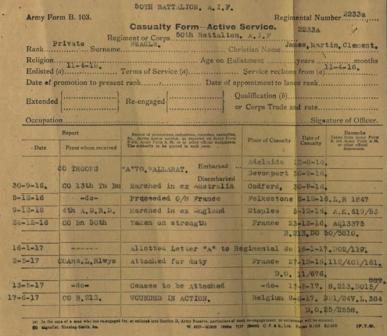 The Casualty Forms are difficult to interpret if hand written so look through all of the service records to locate a typed version as shown above. HOWEVER some records only have the hand written version so be prepared for that eventuality. The casualty record can reveal valuable details of the soldier's movements especially if they are cross referenced with other primary and secondary sources as shown by the following examples of evidence .
USING THE CASUALTY RECORD OF MARTIN NEAGLE TO PRODUCE A TIMELINE OF HIS WARTIME EXPERIENCES.
• Private James Martin NEAGLE enlisted 11/4/1916 in the 50th Battalion
• Service (regimental number) 2233a
• Neagle departed (embarked) from Adelaide on the "A" 70 Ballarat on 12/8/1916 and arrived in England at Devonport (disembarked) on 20/9/1916
• From there he went to the AIF training camp on the Salisbury Plains at Codford on 30/9/1916
• CROSS REFERENCE NO.1 & 2: POSTCARDS FROM CODFORD & PHOTO OF HIS UNIT
• He remained at Codford for three months until his departure for France from Folkestone (UK) on 2/12/1916.
• He was based at Etaples (FRANCE) from 6/12/1916 (Etaples was the location of a huge hospital centre and cemetery along with the notorious training camp. The "Bull Ring" had a horrific reputation amongst the troops for the brutal methods used by the British officers. Today Etaples has one of the largest Commonwealth War Graves Cemeteries in Europe. Over 10,000 men are buried here and the majority of the headstones are named due to the men coming from the vast number of hospitals in that region during the war.)
• From January 1917 Martin was in the field until 9/7/1917 when he wounded in action.
• CROSS REFERENCE NO. 3: A LETTER WRITTEN BY MARTIN RE THE MESSINES ATTACK PRINTED IN A PORT PIRIE NEWSPAPER described as a "…great British victory." In this letter Martin gives a vivid account of being closely involved in the Messines battle where 23 underground mines were set and 19 exploded with great ferocity. It took two years for the British to plan Messines and the impact on soldiers involved was horrific. Martin Neagle and his brother were both present. Martin was reported suffering from shellshock and admitted to N.Z.F. Ambulance on the 9th of June. He wrote of the Messines experience……
"Although these terrific barrages are awe inspiring and magnificent to behold, especially at night time when the thousands of flashes from the guns and the bursting shells and shrapnel present a beautiful sight as far as the eye can see along the front, I am not too anxious to see any more…The reaction if you have the luck to get through one of these ordeals, takes more out of one than anything could describe…"
Martin describes the attack and his response to it ….
"There was a terrific bang and a blinding flash. Again we were half buried. It wounded two men very badly on my right and killed a Cheshire Corporal, while two lads on my left were also wounded. I was pretty dizzy for a while, but remember getting hurled back against the back of the trench which caught me in the chest and stomach. Although I did not receive a scratch, I was done because my nerves were gone. I could not stand up for a while. When the attack commenced we opened fire on his (the German) trenches with our machine gun and artillery, but it was not until after midnight that things quietened down allowing some of the wounded and me to leave the trench for the dressing station and thence onto the hospital."
• Following his admission to a hospital at Ecault (France) he was transferred to the 7th Con. Depot in Boulonge (France) on 11/7/1917
• According to his casualty record he was in hospital until 4/8/1917 when he was transferred to the 4th A.D.B.D in Havre (France) / He remained in Havre for 22 days.
• CROSS REFERENCE NO. 4: A SERIES OF POSTCARDS FROM LE HAVRE – NOT SENT. These were dated from 4th August to the 12th, 1917. He was obviously recuperating from his experiences at Messines and his shellshock.
• On 26th of August 19717 he rejoined his unit in Belgium but less than a month later was on leave to England from 23/9/1917.
• His respite was brief and rejoined his unit from leave on 7th October 1917.
• CROSS REFERENCE NO.5: AN EMBROIDERED CHRISTMAS CARD IS ONE OF THE MOST POIGNANT SOURCES SENT BY MARTIN. IT READS…..
"Wishing Cis ( his only sister and grandmother of Julie Reece) and Mac (his brother in law and grandfather of Julie Reece) a Merry Xmas 1917.
Your loving brother , Mart"
James Martin Neagle was Killed in action on 18th October 1917.
Step 4: Filling in some of the gaps of the service records
The service records in particular the Casualty record are often full of gaps and missing details. You can gain a more detailed picture of the experiences of your soldier by returning to the Australian War Memorial website after locating his service records and follow the story of his battalion and unit through the Official Histories ( www.awm.gov.au)
Follow the steps:
*Collection
*Official Histories and Unit Diaries
*The Official Histories
*First World War
*Official History of Australia in the War of 1914 – 1918 ( C.W Bean's complete official history of WW1)
*Go to the relevant volume based on the service experiences of your soldier (eg. For Martin go to Vol. 1V "The A.I F in France 1917) then locate the dates that match up with his service records. You can read about the experiences of the battalion in and around the death date of your soldier. Martin Neagle was KIA on October 18th. 1917 in the Battle of Passchendaele and page 933 of Volume 1V gives a graphic account of the impact of gas attacks in the region. On the date that Martin died most of the casualties were caused by the effects of gas with only 20 men dying from a direct hit out of the 1,313 recorded dead on that day.
On the AWM website you can read the unit diaries which include specific details of the battle and day to day experiences of that unit.
Follow the steps:
*Go back to the AWM home page and click on the "Collection"
*Under this you will see a number of headings, click on the "Official Histories and Unit Diaries" tab
*On the left hand side of the page you will now see tabs including "Unit and Commander's Diaries" Click on this.
*Click on First World War
*Click on the relevant unit (eg "As part of the 13th Brigade- 50 Battalion")
*50th Battalion – gives a general overview of the history of the battalion
*Go to the end of that page and click on 'References" – here you will locate the War diary of the battalion
*eg. AWM4: 23/67/1-23/67/35
*Australian Army War Diaries- First World War – click on the relevant dates – eg for Martin go to the date of his death – 18th October 1917. You can then read about the unit's experiences on the date of death of your soldier. At times it can be quite chilling reading to learn first hand of events on the day your soldier died.
Step 5: Locating the grave of your soldier ( page 154)
All Commonwealth military personnel buried in a Commonwealth War Graves Cemetery can be located on this website www.cwgc.org . All you require is the name of the soldier and follow the steps on the website.
Go to "Find War Dead" and the cemetery or memorial details will be easily located. Grave references or panel references are given so when people visit the location the burial place of the soldier is easy to locate if he has a known grave.



Sources
Some of the most useful aspects of this site are found under the "Biographical Databases" tab. These include the Nominal Rolls and Roll Of Honour but another very useful section is "Researching a Person". By simply typing in the surname of interest and the conflict, a list of all of the records of people with that surname appears. (I have found this helpful in locating siblings of the soldier of interest, as well as information not found elsewhere). This includes Roll of Honour, Nominal and Embarkation Rolls, as well as Recommendations for Awards and Awards given. It may also include Red Cross Wounded and Missing Enquiry Board entries. These can be very useful in determining exactly where, when and how a soldier was killed or wounded. These are only relevant for some First World War soldiers but may give eyewitness accounts of a soldier's final moments.
National Archives of Australia
Home Page http://www.naa.gov.au/
Commonwealth War Graves Commission