WILLIAM HAROLD SIMCOCK
Rank: Lance Corporal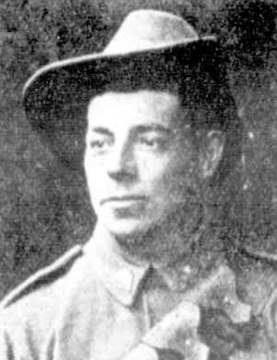 Service Number: 2213
Units: 5th Pioneer Battalion
William was born in Callington, South Australia in 1895 to parents Edward and Bertha.
He enlisted in to the AIF on the 25th January 1916 at the age of 30 years. He had a wife Rosy May, and 2 children, Bertha May and Robert Edward Andrew. At the time he enlisted he was 5' 8" tall, weighed 166 pounds with a dark complexion, brown eyes and dark hair. He described himself as a labourer and was a member of the Methodist Church. During his training in Adelaide, before he left for France, he attended an NCO Training School. He embarked aboard the "Seang Bea" on the 13th July 1916 arriving in Devonport, England on the 9th September. During his training in Australia and England he was promoted to Corporal, but this was a temporary promotion and he reverted to Private when he joined the 5th Pioneers in France on the 20th November 1916. After a little over a month in active service he was sent to hospital suffering from gastritis. He did not recover quickly and was sent to Rouen on the 6th January 1917. He spent some time there before being sent to hospital at Mapsbury in England on the 17th January. He finally recovered and was granted furlough on the 8th February 1917, returning to training at Perham Downs on the 23rd February. He continued to train there until early April when he was sent back to France to re-join the 5th Pioneers on the 16th. On the 27th August he was promoted to Lance Corporal. On the 16th October he was wounded by shrapnel, with a fracture to his femur, and also gassed. He was admitted to the 2nd Canadian Casualty Clearing Station but died there the following day and was buried in the Lijssenthoek Military Cemetery in Section XXI, Row E, Grave 15A. His headstone was inscribed with the words from his wife, Rosy, "Your Name Liveth Forever in Sunny Australia"
On the 7th November 1917, Rosy inserted a notice in to the Advertiser's "Died on Active Service" column. It read,
"In ever-loving memory of my dear
husband, Lance-Corporal Harold Simcock, died of
wounds in France, October 17, 3/5th Pioneers
- aged 32 years late of Woodchester.
Lord, take his soul into thy keeping,
He freely offered life for all,
In answer to his country's call
He helped to show Australia's might;
Now peacefully sleeps in a hero's grave.
One of God's bravest and best.
Inserted by his loving wife and children.