Thomas Malcolm RETTALACK
Rank: Private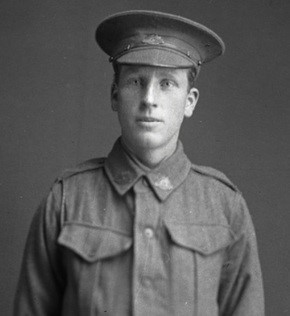 Service number: 1975
Regiment: 50th Battalion
Thomas Malcolm Retallack was the 5th born child to Margaret and John Retallack on the 01/06/ 1890, in Forster. A small community just up the river from Mannum SA.
He spent his childhood growing up on the family farm near Swan Reach SA. Thomas followed his father's footsteps and was a keen farmer before being enlisted to serve.Thomas as with his siblings were of Cornish stature; small build and short he was only 158cm tall and weighed a mere 53kgs. He had auburn hair and blue eyes
ENLISTMENT INFORMATION
Thomas and his older brother Walter George(known as George) enlisted for the war around the same time, Thomas to the 50th Battalion and George to the 3rd light horse Regiment. Thomas embarked with the 3rd reinforcements from Adelaide on 13th July 1916, just six (6) weeks after his 26th birthday. He boarded the HMAT Seang Bee headed for Plymouth, England. Following training in England he proceeded to the western front, France and joined his battalion near Longueval in late January 1917.
The Battle of Messines (7–14 June 1917) was an offensive action conducted by the British Second Army, under the command of General Sir Herbert Plumer, on the Western Front near the village of Messines in West Flanders, Belgium. The Nivelle Offensive in April and May had failed to achieve its more ambitious aims, and led to the demoralisation of French troops and the dislocation of the Anglo-French strategy for 1917. The offensive at Messines forced the Germans to move reserves to Flanders from the Arras and Aisne fronts, which relieved pressure on the French. The tactical objective of the attack at Messines was to capture the German defences on the ridge, which ran from Ploegsteert (Plugstreet) Wood in the south, through Messines and Wytschaete to Mt. Sorrel, to deprive the German 4th Army of the high ground south of Ypres.
Thomas' service was cut short when only four months in to battle he was wounded in action on 17/06/1917 and died later that day as a result of his injuries. Unfortunately there is no recorded evidence of the injuries he sustained.