NICHOLAS ROY HERRING
Service Number: 1955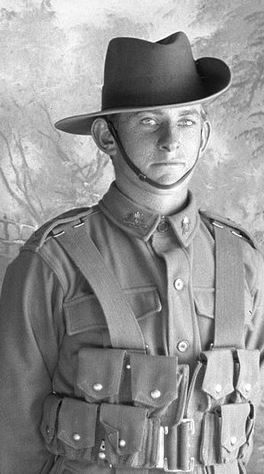 Rank: Private
Unit: 10th and 50th Battalion
Nicholas is a soldier whose name appears on the Lobethal Memorial. I chose him as one of the two soldiers from Lobethal to commemorate on this trip. He enlisted on January 8th 1915. He was born around 1897 in Callington, South Australia.
His home town was Lobethal. He was a labourer when he enlisted. He embarked from Adelaide on the HMAT HOROR0TA on 20th April 1915. He was taken on strength by the 10th Battalion on the 8th July 1915 at Gallipoli. On the 24th October he was sent to hospital with dysentery, returning to his unit a few weeks later. He returned to Egypt with the rest of the ANZAC Forces in late December 1915. On the 9th January 1916, while in camp in Egypt he went AWOL for 12 days and was sentenced to 21 days detention and loss of 12 days' pay. He suffered conjunctivitis in February of that year, and over the next few months received 3 charges, including insubordination and slovenly on parade. On the 2nd April 1916 he was transferred from the 10th Battalion to the 50th Battalion. 2 weeks later he was charged with wilful defiance of a direct order from a superior officer, by refusing to clean up the line, replying to the officer that he could "go and get f#@&ed". He was originally sentenced to 2 years hard labour and a discharge with ignominy, but this was later reduced to 6 months with no discharge. He spent the next 5 months in prison in the Citadel Prison in Egypt with a short time in hospital with another bout of dysentery. He was released 27 days early for good behaviour and was sent to England in September 1916. On October 13th, while with the 13th Training Battalion, he was charged with "Urinating in the Company Line" at Codford and was sentenced to 168 hours of detention. On the 14th January 1917 while still at Codford, he went AWOL for 6 ½ hours and lost 6 days' pay. On the 28th January he was sent to France and re-joined the 50th Battalion on the 7th February. The battalion at that time was working in support near Bernafay. In March and April of 1917, the German Army began a tactical retreat to the well prepared defensive "Hindenburg Line". As they withdrew they held up the advancing British forces by leaving units in heavily fortified villages which ensured that the main body of the army would not be overtaken before being well established in its new line. One of these villages was that of Noreuil and on the 2nd April 1917 the 50th Battalion was tasked with taking it. This was a very costly day for the battalion and among those killed was Nicholas.
He just 2 months from his 21st birthday.
He's buried at Noreuil Australian Cemetery in France. It is an honour to be able to commemorate Nicholas and thank him for his sacrifice.