MILES FITZROY BEEVOR
Rank: Lieutenant Colonel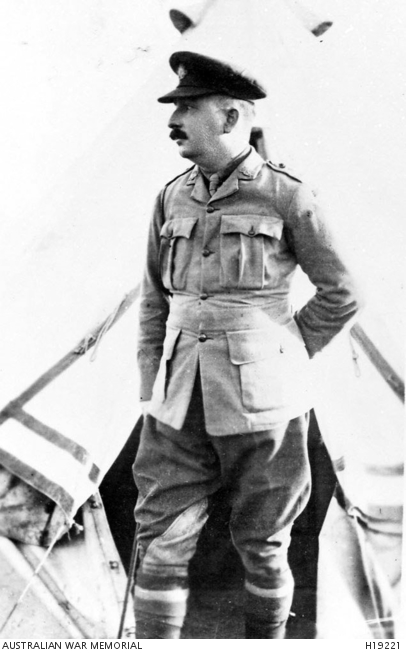 Service Number: N/A
Unit Served: 10th Battalion (commanded A Company 1915), 52nd Battalion (commanded 1916)
Personal Details: Born on 27 February 1883 in North Adelaide to Teresa Victoria Mantegani and Miles Horatio Beevor. Having already earned a commission in the South Australian Military Forces, upon his enlistment at the outbreak of WW1, Miles was one of the first officers selected by Colonel Weir for the South Australian battalion, the 10th Infantry Battalion. He was appointed Major and Officer in command of 'A Company'. An interesting fact, the men in his company where referred to as 'Beevor's Little Lambs'.
Enlistment Details: Enlisted 19 August 1914, Adelaide
Details of his role in the War: Embarked from Adelaide on the 20 October 1914 aboard the HMAT A11 Ascanius as a Major with 'A' Company, landing in Mena, Egypt, in January 1915.
On the 25 April, 1915, he landed with his men from the destroyer the Foxhound on Anzac Cove. Later that afternoon, he was shot in his foot and was forced to evacuate.
Referring to his wound, Corporal S A Outerbridge wrote:
"All our Officers turned out trumps and nearly all got hit. Major Beevor got wounded in the foot. He was crawling backwards and forwards to the firing-line with ammunition after he was wounded and left the firing-line only when reinforcements came up. He'll do me." He was repatriated to England and was admitted to the Whitworth Street Hospital at Manchester. In a small book entitled "My Landing on Gallipoli", he has recorded the various experiences from enlistment to evacuation.
He returned to Gallipoli on 20 October 1915 as Temporary Lieutenant Colonel and resumed command of the 10th Battalion. On the 21 November 1915, he accompanied the Fighting Tenth (as the 10th Infantry Battalion would later be known) when withdrawn from Gallipoli and then made their way Lemnos. After a re-organization of troops, the 10th Battalion embarked from Egypt. The Fighting Tenth encamped at Tel-El-Kebir, then later moved to the Suez Canal Defences, first at Serapeum and then at Gebel Habita.
On 1 February 1916, Miles was promoted to the full rank of Lieutenant Colonel.
On 4 March 1916, his service with the 10th Battalion terminated and he was transferred to the 52nd Battalion as Commanding Officer.
On 6 June 1916, he accompanied the 52nd Battalion to Iverniato France, arriving at Marseilles on 12 June 1916. Within a fortnight his battalion was in the front line of trenches.
During the attack on Mouquet Farm on 2 September 1916, Miles was wounded for the second time, this time being shot in the thigh. He left his battalion on a stretcher and was sent to England, where he was admitted to 4th London General Hospital. Despite his desire to rejoin his battalion, General Sir William Birdwood stated in a letter to Miles: "You have been two years on active service and have been twice wounded, so we will send you back to Australia for a while."
Age RTA: Returned to Australia on 11 October 1916 on the Orsova, at 33 years of age. His services with the AIF terminated on 7 December 1916.
Life after the War: Miles Fitzroy Beevor married Ethel Morrison on 23 May 1925.
He continued to work as an accountant and was affiliated with the creation of the charity Legacy.
Every year on Anzac Day, he would lead the march, riding a grey horse down King William St.
Age at Death/Date of Death/Cemetery Details: Miles Beevor died from natural causes 9 October 1961 at age 78. He is buried at North Road Anglican Cemetery, Path 23 E North Side. His wife Ethel was buried beside him.