John Younger
Name: John James Affleck Younger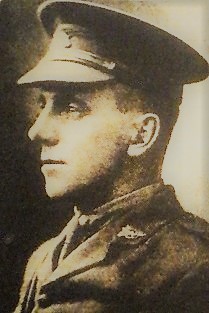 Rank: Lieutenant
Units: 10th Battalion 1st AIF
Personal Life: John was born at Ballarook in Nhill, Victoria on 26th March 1878. He was the son of W. M Younger. He was married to Eva and had 6 children with her; Marie, May, Bob, Preston, Nell and Jack, who ranged in age from 1 year to 12 years old when he died. He only had 4 children when he enlisted in 1915, so Nell and Jack must have been born just before or after he shipped out. He was a stock agent, manager and auctioneer, starting his career in the Wimmera and Western Districts regions of Victoria with Messrs Young Bros, before moving to Naracoorte to represent the company there. In 1903 the company closed its Naracoorte office so John moved to Dalgety and Co. He worked with this firm in Naracoorte, then Millicent for a time before returning to Naracoorte until his enlistment.
Enlistment Details: John enlisted on the 1st October 1915 in Adelaide, at the age of 37 and a half years. He was 5'10 inches tall and weighed 177 pounds, with a medium complexion, blue eyes and dark brown hair. He was a member of the Presbyterian Church.
Service: With his strong background in country life, John was originally assigned to the Light Horse, but his management skills were obviously valued as he rose through the ranks in the training camp quite quickly, and he was eventually sent for officer training at Duntroon College in what is now Canberra. The college had only started a few years before the war. After graduating from Duntroon, he was commissioned as an officer with the rank of 2nd Lieutenant and was assigned to the 25th Reinforcement of the 10th Battalion. He departed from Australia with this contingent, as the second in command to Lieutenant Harold Boyce, 15 years his junior. They left from Melbourne aboard the "Aeneas" on the 30th October 1917. After a few times in the ship's hospital on the trip over, John disembarked at Devonport on the 24th December 1917. He then went to Sutton Veny for further training, before moving in February 1918 to Kandahar Barracks at Tidworth where he was an officer in the 2nd Training Battalion.
He left England on the 18th April, and was taken on strength by the 10th Battalion on the 24th April. He was once again promoted, this time to Lieutenant on the 1st June. He was then sent to a school of instruction on the 8th July before being admitted to hospital with influenza 4 days later. He was returned to his unit on the 21st July.
Early August was spent in preparation for the major counterattack against the German Army spearheaded by Australian, Canadian and British forces either side of the Somme. On the 8th August the offensive was launched with General Monash in charge. This was seen as the "Black Day" for the German Army as kilometres rather than metres of territory were taken from them in an orchestrated attack combining the use of infantry, tanks, aircraft and artillery.
2 days later the 10th Battalion was called on to take place in a follow up battle to make further gains near Lihons in France. During this battle much of Crepey Wood was captured by the 9th battalion but they were hard pressed to hold it so a company of the 10th battalion, including John, were sent to support them. The Germans launched a fierce counterattack supported by artillery and it was during this that John was killed.
He was buried on the western edge of Crepey Wood. After the war his body was exhumed and he was buried in Heath Cemetery near Harbonnieres. He was 40 years old.