HAROLD EDWIN SALISBURY "ROLLO" ARMITAGE
Rank: Captain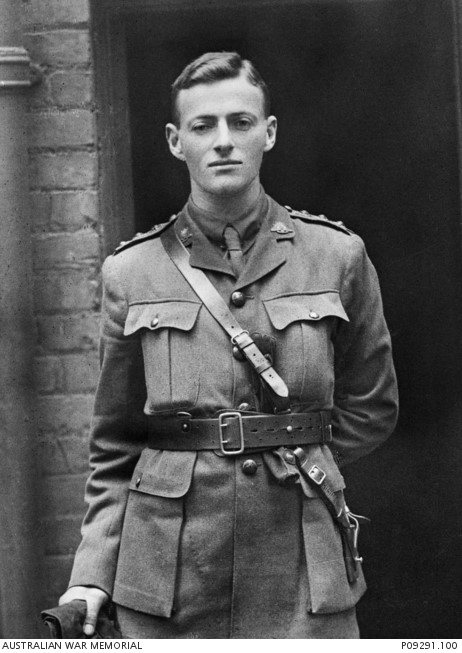 Unit Served: 10th Battalion, 50th Battalion
Personal Details: Born in Norwood on 11 November, 1894 to Henry and Martha Armitage. He attended Houghton Primary School, followed by Adelaide School of Mines and then Adelaide High School. He worked as a junior teacher at Millicent Public School where his father was Head Teacher. Following in his father's footsteps, Harold studied English, History and Education at the University of Adelaide. He left his studies to enlist in WW1.
Enlistment Details: Enlisted 24 March, 1915, aged 20. Initially he was refused acceptance, so he completed an Officer's Training Course, coming top of his class.
Details of his role in the War: After completing the Officer's Training Course, he proceeded to Oaklands Training Course where he helped train the 3rd, 4th and 5th reinforcements of the 10th Battalion, which led to Harold being drafted into the 5th reinforcements of the 10th Battalion with the rank of Second Lieutenant. He departed Australia HMAT Hororata 20 April 1915, bound for Gallipoli. He was later promoted to Lieutenant 4th August 1915.
On one occasion when waiting for an attack to take place on a Turkish trench he later wrote 'it was a queer sensation to see the blue flashes of their guns only a few feet away, and feel the wind of a bullet whizzing an inch or so overhead. Our boys kept quiet and waited for my whistle, then gave the Turks the English Mad Minute – 15 rounds as fast as can be fired. My word there was a scatter.'
After the withdrawal from Gallipoli, Armitage wrote in a letter home that he had seen many sights, "pleasing, horrible, awe inspiring, hellish, but as far as I can say, the effect has only been to broaden my experience, [and to] make me a little more serious.'
When in Egypt, Armitage was transferred into the newly formed 50th Battalion on the 26 February, 1916, and 12 days later was promoted to the rank of Captain. He was given command of his company: C Company.
He arrived in Marseilles, France, on 12 June 1916. Harold's first involvement on the Western Front was at Pozieres and Mouquet Farm. Australis had already lost 23,000 casualties, which was the worst total in 5 weeks. The 50th Battalion were heavily involved in the fighting, especially on the 13th to the 15th August 1916. It was during this time that Armitage proved himself to his battalion. Writing in his diary, he described his experience at Mouquet Farm as 'four days of hell and four nights of double hell.' In March, 1917, he was recommended for a Mentioned in Despatches and he was later posthumously awarded the MID.
After a period of recuperation, the 50th Battalion became involved in an attack on one of the German fortified 'Outpost Villages' near Noreuil. On the 3 April, concerned that the right flank was unsecure, Armitage looked over the parapet of the trench and was shot in the head. He was killed instantly, surrounded by his men and his friends.
Awarded:
MID (Mentioned In Despatches, date of Recommendation: 2 March 1917)
1914/15 Star: 2950
British War Medal: 10898
Victory Medal: 10852
Memorial Plaque and Scroll: 355743
Age at Death/Date of Death/Cemetery Details: Aged 21, Killed in Action 3 April 1917, Buried at Noreuil Australian Cemetery, plot C 21.