EDWARD JAMES ELLERY
Rank: Lance Corporal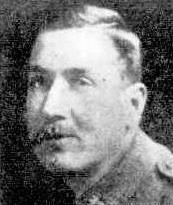 Service Number: 4561
Units served: 27th Battalion
PERSONAL DETAILS:
Edward James Ellery was born 7 December 1881 in Richman's Creek, near Quorn in South Australia. He was the son of Thomas and Eliza (nee Bodinner) Ellery and had 6 siblings. At the time of enlistment, both of his parents were deceased and his sister Mrs Ada Rodgers of Bruce (SA) was named as his next of kin. Edward was 5' 10" in height, weighed 158 pounds, had a medium complexion, brown eyes and brown hair. He classed himself as a Methodist. Prior to enlistment he was worked as a farmer and to this day his living relatives still continue to work the same farm.
ENLISTMENT DETAILS:
He was 34 years of age when he enlisted in Adelaide on 23rd February 1916. Edward James, along with with his cousins, Lancelot Horiton Ellery (service number 4562- one number more than Edward's) and Edward (service Number 4560 – one less than Edward James', all set out with Edward James' brother, William, to enlist together. William, whose enlistment papers having him enlisting the day after Edward James, Lance and his brother Edward, all survived to return home to continue farming.
DETAILS ABOUT HIS ROLE IN THE WAR:
Edward James Ellery left for war on the HMT Tunisian on 31 March 1916, just over one month after enlisting bound for the port of Alexandria in Egypt arriving on 29th of May. From there Edward proceeded to join his unit from the southern French port of Marseilles on the 5th of June onto Etaples on the 6th. From the notorious training camps run by the British army at Etaples, he left to join his unit on the 11th of August 1916. The 27th Battalion spent late August in support near Mouquet Farm, and September and early October in training. Edward's casualty record states that on 13 October 1916 he was hospitalised in Belgium with haemorrhoids later to be transferred to the Casualty Clearing Station on the 13th. During the next few weeks from the 13th October – to the end of that month, he moved hospitals from Wimereux, Etaples and eventually was taken to England from Calais on the 26th October for further treatment. Eventually Edward left hospital in England for a period of leave from the end of December 1916 to early January 1917.
From the UK port of Folkestone, he returned to Etaples in France on 16th February 1917 and joined his unit on March 13th and less than a week later on the 18th was appointed Lance Corporal.
For the next 6 months Edward was on the front line only to be wounded in action in Belgium on October 4th in the Third Battle of Ypres. Suffering from a gunshot wound to the right elbow he was treated in a number of hospitals in Camiers, Etaples, Bayeux and the port town of Havre for most of October. On the 17th of November 1917, he returned to his Battalion in Belgium in one of the worst battles of the war…that of Passchendale. For several months he was based in Flanders region only to be relieved in February 1918 the last year of the war. A period of leave from 5th February to the 21st was enjoyed by Edward in England only to return to the front lines once more. On the event of the death of Corporal Durbridge, Ellery was promoted on the 13th of August while the AIF fought under Monash in the final days of the war. Just two months short of the Armistice, Corporal Edward James Ellery's luck ran out and was Killed in Action in one of the final battles of WW1.
KIA on September 2nd, 1918 he was initially buried next to one other soldier Private T.C Beenham from Norwood in Adelaide, at Hant-Allomis not far from Sint Quentin. He was eventually transferred to the Peronne Communal Cemetery. A poignant photograph of his grave next to Beenham's in the snow covered land-scape can be found on the Australian War Memorial website. Next to the two crosses, two rifles were crossed in memory of the two men from South Australia.
POSTCRIPT: family links in 2019
Ian Rodgers is the great, great nephew of Edward James Ellery and farms on the Richman Creek farm and is a direct relative of Edward. Sue Ellery from Orroroo, is married to another great, great nephew of Edward's, Ian Ellery and has a number of his photos and artefacts from the war. Edward's memorial is attached to his parents and some siblings' burial stone in the Quorn cemetery. A beautiful cemetery, it is surrounded by the Flinders Ranges overlooking the plains. In 2018 Sue and Ian Ellery added more information to the burial site with a base plaque. When Edward Ellery is commemorated on the 2019 CS tour, a knitted hand -made poppy, with a vintage button at its centre, will be placed on his grave…his family has not forgotten this young man from rural South Australia.