DAVID TELFORD COULTER
Rank: Lance Corporal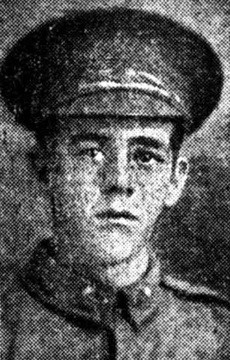 Service Number: 3273
Unit Served: 50th Australian Infantry Battalion
Personal Details: David Telford Coulter was born on the 3rd of December, 1895 in Happy Valley South Australia. David's mother was Margaret Coulter and his father was Stephen Coulter. He was 5 ft. 9inches, had light brown hair, blue eyes and a fresh complexion. David lived with his
parents and seven siblings in Brompton, South Australia.
Enlistment Details: David enlisted with the Australian Imperial Force on the 27th of July 1915. Being only nineteen years old at the time he had to first obtain permission from his parents, which was granted, before joining the 10th Battalion and embarking from Adelaide on the 27th of October, 1915 aboard HMAT A24 Benalla.
Details of War: David arrived in Egypt on February 26, 1916 and was quickly transferred to the 50th Battalion for training. The 50th Battalion formed part of the 13th Brigade of the forth Division. After completing his training David travelled to France, along with the rest of the 50th Battalion, landing on the 11th of June 1916.
On the 13th and 14th of August 1916, David Coulter fought in a major battle at Mouquet Farm where his unit suffered many causalities. Mouquet Farm was the site of nine separate attacks by three Australian Divisions between August and September, 1916. The farm stood in a dominating position on a ridge that extended north-west from the ruined, and much fought over, village of Pozieres.
On the 3rd September 1916, the Battalion launched a further attack at Mouquet Farm. At this stage many of David's fellow troops had been overcome with exhaustion and found it challenging to continue on. It was during this time that David showed exceptional courage and bravery on the field, by assisting his fellow fighters under heavy fire. For his efforts he was awarded the Military Medal and was promoted to the rank of Lance Corporal on the 4th of September, 1916.
In October 1917, David was transported to England after suddenly becoming unwell. Upon his arrival to Bath War Hospital, it was discovered that he was suffering from an abscess. After several months in hospital David finally recovered, eventually re-joining the 50th Battalion on the 24th of April, 1918.
David returned to Australia on the 5th of April 1919, before being discharged from the Army on the 8th July, 1919. Upon his return to Australia he married Alice Elizabeth Doddrige, on the 29th of May 1920, at St Luke's Church, Adelaide.
Cemetery or Memorial Details: On the 2nd July 1962, David Telford Coulter passed away at the age of sixty-six. He is now buried in Centennial Park Cemetery, Adelaide, South Australia.
Interesting Materials: On the 3rd February 1917, The Adelaide Chronicle printed the following brief article sharing the news of David's Military Medal Honour.
'Mrs. M. Coulter, of Chapman-Street, Hindmarsh, has received word that her son, Private D. T. Coulter, has been promoted to lance-corporal and has received the Military Medal. He left Australia in October 1915, and after a short stay in Egypt he was send to France. He spent his 20th and 21st birthdays abroad.' – Adelaide Chronicle Newspaper, 3rd February 1917.