Clifford Riddle
Name: Clifford Frederick Clement Riddle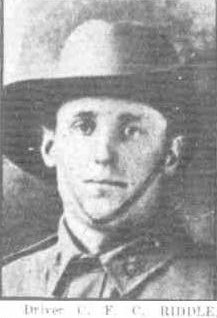 Rank: Driver
Service Number: 3399
Units: 6th Field Company Engineers & 4th Field Artillery Brigade
Personal Life: Clifford was born in North Adelaide, in May of 1897. His father was Charles, and he had at least one brother and a number of sisters. His mother died on the 22nd February 1914, but there is no mention of her name in any of Clifford's records or in any of the family notices published at the time of her death or at the anniversary of her death 12 months later. Clifford attended the North Adelaide Public School and was a bricklayer with Hall and Dale when he enlisted. He was also a member of the Glen Osmond football team.
Enlistment Details: Clifford enlisted at the age of 21 years and 4 months on the 13th August 1915. He was 5'8 ¾' tall (175 cm) and weighed 160 pounds (73 kgs). He had a fresh complexion, hazel eyes and dark brown hair, and was a member of the Church of England.
Service: Clifford was initially enlisted as a sapper in the 6th Field Company Engineers and left Australia from Sydney aboard the "Ceramic" on the 24th November 1915. He spent time in Egypt during which time he was charged with breaking camp and not being present at tattoo call on Christmas Day 1915, for which he spent 14 days in detention.
On the 11th March 1916 he was transferred to the 15th Field Company Engineers, and left Egypt with them on the 18th June. He arrived in Marseilles on the 29th June and then travelled north through France to the battlefields of the Western Front. His company was positioned near the village of Fromelles and was in support of the infantry troops who launched an attack on the evening of the 19th July. The engineers supported the attack by maintaining and repairing trenches as shells fell around them. During the next 24 hours Clifford was wounded with a gunshot wound to the neck and was admitted to the 2nd Advanced Casualty Clearing Station before being taken to the 25th General Hospital where he spent the next few weeks recovering, before re-joining his unit on the 9th August. He remained with the unit throughout the rest of 1916 before being transferred to the 104th Battery of the 4th Field Artillery Brigade as a driver on the 9th January 1917. He remained with this unit until the 6th Jun when he was accidently wounded by a Mills Bomb, dying the same day in the 9th Casualty Clearing Station. He was buried by the Reverend Shaddick in the Aveluy Communal Cemetery Extension.