Waldemar Robert (Bob) Hawkes
Rank:
2nd Lieutenant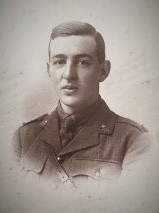 Service Number:
550
Regiment:
9th Light Horse Regiment Machine Gun Section

Bob was born on 18th November 1894 in Burra to parents Waldemar and Isabella Hawkes of Koonoona and was one of seven children. He was educated at Queens School North Adelaide and went on to become a station overseer on the family property. He served in the cadets for 18 months and then in the 23rd Light Horse for 18 months before enlisting at age 19 on the 27th October 1914 as a Lance Corporal.

As a member of the 9th Light Horse Regiment he embarked from Melbourne on board the transport A10 "Karroo". After training in Egypt he went onto Gallipoli were he was badly wounded at Walkers Ridge supporting the tragic attack by the 3rd Light Horse Brigade at dawn on the 7th August 1915. He was shot three times through the neck and shoulder.

"My word it is a sensation getting hit, you don't feel any pain but get an awful whack. When I got my little lot I was giving a Turkish Trench the surprise of their lives. You very seldom get a chance like this one. We had been standing to arms all night and doing a great deal of firing at an invisible target at a fair range when nearing daylight our chaps charged the line of trench in front of us. You probably know the result if you saw the casualty list of the 8th and the 10th LH…..Of course a man cannot charge and shoot too and these poor fellows had no covering fire whatsoever, consequently the Turks on the trench were as bold as they could be. I Looked over the parapet and saw them, the trench was a living mass of Turks showing their heads and shoulders and I could not miss the opportunity so pulled out three sand bags and put my gun in. I got one complete traverse up that line and half way back when "whack""

Bob was wounded in action again on the 18th November 1916 in France.(Gun shot wound right thigh) He recovered in England and then underwent further training and proceeded to France in August 1917 with the 21st Machine Gun Company. Now in Belgium he was promoted to Lieutenant 6th September 1917. This was during the third battle of Ypres. Many would afterwards call this offensive, actually a series of battles, after the name of the village that had become the last objective – Passchendaele. In his last letter home he writes "… I feel pretty confident about pulling through alright …. I was buried by shells, twice….we got our fair share of gas … but at times one has to think hard when your gun teams get blown out all around you.. however in the world we were missed this last time, I don't know…" Bob and his team were killed in action 29th October 1917 by a direct hit from a high explosive artillery round in the final assault on the village of Passchendaele.

His body was never recovered and his name is on the wall of the Menin Gate Memorial in Ieper, Belgium.