Gordon John Burnett
Gordon John Burnett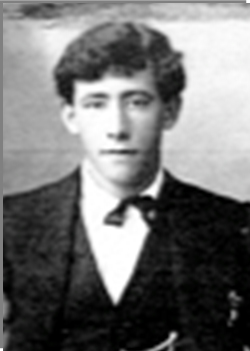 Rank: Private
Service Number: 2914
Units Served: 6/17th Battalion
Personal Details: Gordon John Burnett was born on the 18th of January 1892, at Hawker, South Australia. He had a dark complexion, brown eyes and brown hair. He weighed 124lbs and was 5' 3" tall. He was the eldest of three children, never married and was a carpenter. He also classified himself as a Roman Catholic.
Enlistment Details: He enlisted on the 20th of July 1915 at Liverpool and was posted to the 6th Reinforcement of the 17th Battalion as a private at the age of 23.
Details about his role in War: He embarked from Sydney on the 2nd of November 1915 on the H.M.A.T 'Euripides'. He was transferred from the 6/17th at Tel-el-Kebir on the 16th of February 1916 and was taken on strength on the 3rd of May 1916. On the 11th of November 1916 he was admitted to hospital in France due to illness but re-joined the battalion 12 days later. On the 25th of November 1916 Gordon was sentenced to 9 months imprisonment with H.L due to disobeying lawful command. On the 3rd of June 1917 he was admitted to hospital in England with Trench Feet and wasn't able to join the 17th battalion again until the 20th of July 1918. During this time he was reported and punished for neglecting orders and for being absent without leave on four occasions. His Battalion travelled to many significant places in France and was also involved in battles in Belgium. Gordon was killed in action in France on the 31st of August 1918.
Age at Death: 26
Cemetery or Memorial Details: Peronne Communal Cemetery Extension, France.
Interesting Material: Gordon's brother Arch did not participate in the war. Arch wrote a book that was published in 1973, called 'Wilful Murder in the outback'. It is a book about his early life and features a rather moving passage about Gordon (pg.45-46). Gordon did not receive many letters from his family while he was overseas. He was very lonely, which is possibly why he caused such trouble for his commanding officers. His cousins also fought in the war though he never got to see them.