William Shillabeer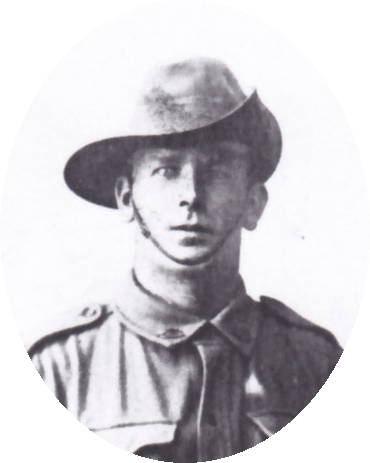 Rank: Private
Service Number: 295B
Units Served: 5th Battalion Australian Machine Gun Corps
Personal Details: William Leslie Shillabeer was born on the 27th September 1884 in Yarrowie, near Jamestown in South Australia to parents Robert Smyth and Margaret Shillabeer. He attended the Murray Town State School. He was 5'11" tall and weighed 168 pounds. He had blue eyes and fair hair and a fresh complexion. Prior to enlisting his occupation was a farmer at Caltowie. He has served for 2 years in the 17th Aust. Light Horse as a member of the Citizens Military Force.
Enlistment Details: William enlisted on the 6
th
March 1916 in Port Pirie at the age of 31 years and 6 months. He was assigned to the 3rd Reinforcements of the 8th Machine Gun Company. He departed from Adelaide to travel to Melbourne on 24th April of that year.
Details about his role in War: William left Australia from Melbourne aboard the "HMAT Pt. Lincoln" on the 4
th
May 1916. After spending some time in Egypt he boarded the
"HT Franconian"
at Alexandria on the 2nd August 1916. He then marched into Grantham Training Camp on the Salisbury Plains on the 24th September, where he received training at the No 1 Machine Gun Training Depot. On the 1st December he embarked from Folkestone aboard the "
Golden Eagle
". He then joined the 8th Machine Gun Company in France on the 16th December 1916. On the 29th January 1917, he took sick and was admitted to the 13th Field Ambulance with pyrexia. It was the 12th March 1917 before he rejoined his unit in the field. Less than a week later he was back in hospital with laryngitis rejoining his unit on the 4th April. He remained with the 8th Machine Gun Company until he died of wounds received in action on the 22nd March 1918. According to witnesses he was at Neuve Eglise, now known as Nieukerke, about 5kms behind the British Front Line. He had just had lunch and was talking with some transport drivers when a shell landed amongst them killing 7 and wounding others. Shell fragments took off one of his legs and caused further wounds to other parts of his body. He was treated and bandaged on the scene and taken to a dressing station at Kandahar Farm in a semi-conscious state. He died there later that day and was buried in the Kandahar Farm Military Cemetery.
Age at Death: 33
Memorial Details: Kandahar Farm Cemetery Section II Row H Grave 20
Interesting Material:
Commemorated by Mal Jurgs, his 1st Cousin twice removed.