Thomas Bray
Thomas William Bray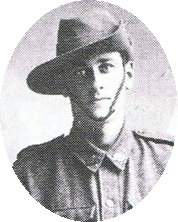 Rank: Private
Units Served
: 6th Battalion (Infantry)
Personal Details: Thomas was the son of Thomas and Rosetta Bray. He was born in January 1896 in Lemon Springs, Victoria. He was schooled in Lemon Springs and pursued a career in farming in Goroke. Thomas was single before he left for the war. He was 5' 11 ½" tall with a medium complexion, grey blue eyes and brown hair. He was a member of the Church of England.
Enlistment Details:
Thomas Bray enlisted on the 21st of March, 1916 in Horsham, Victoria, at the age 20 years and 1 month old. He was assigned to the 17th Reinforcement of the 6th Battalion.
Details about his role in War:
Thomas left Australia aboard the HMAT Euripides on the 4th April 1916 departing from Melbourne. He arrived in Plymouth on the 12th June and spent the next 3 months training with the 2nd Training Battalion at Perham. He then left for France on the 5th September, arriving in Etaples on the 16th. He was taken on strength on the 19th September 1916. The battalion at this time was in the Ypres section, but moved south to the area around Guedecourt in October and stayed there for most of the next few months. In January, the battalion moved to the area around Bazentin-le-Petit and it was while in this area that Thomas was killed in action on the 4th February 1917 at the age of 21.
Age at Death: 21 years 1 month
Cemetery or Memorial Details: 388 Bazentin-Le-Petit Military Cemetery
Interesting Material: Thomas is Oliver's Great, Great Uncle