Theodore Whitelaw
Name: Theodore Ernest Whitelaw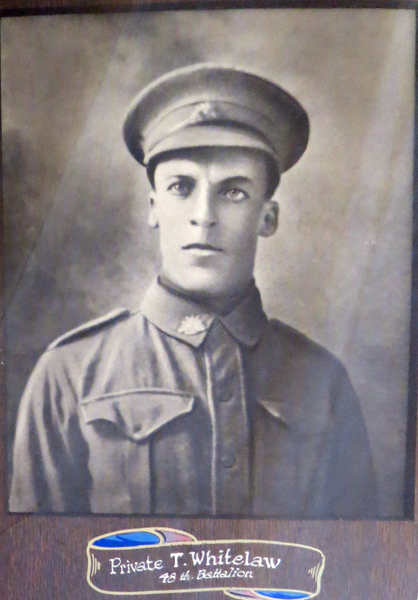 Unit Served: 48th Battalion
Personal Details:
Theodore Ernest (known as Tom) was born in England in 1883, the son of George Baynes and Emma Whitelaw of Regent Park, London.He was slightly lame, having suffered from Infantile Paralysis as a child. He was an apiculturist (bee keeper).
Enlistment Details:
Tom enlisted at Adelaide on 28th August 1915. He was 22 years old. He was5'5", weighed 142 lbs, with dark brown hair and blue eyes. He listed his religion as Church of England.
Details of his role in the war:
Tom left Adelaide on 11th January 1916 on board the "Borda" and arrived in the Suez on 9th February 1916, on to Telelkebir, and then on to Marseilles, disembarking on 9th June of that year.
He was reported missing in action on 8th August 1916 at Pozieres. Eyewitness reports revealed that during a counter attack, he was shot through the head and died outright.
Personal effects consisting of a handkerchief, cap comforter, a woollen scarf and tobacco were returned to his father.
Age at Death: 33 years, 8th August 1916
Burial Details: Serre Road Cemetery No. 2
Grave Ref: XXVIII.D.8
Image from the Virtual War Memorial of Australia