Nellie Walker
JEAN NELLIE MILES WALKER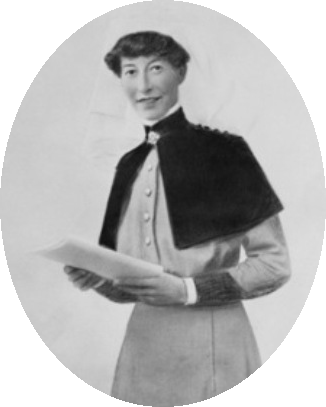 Units Served: Australian Army Nursing Service
Personal Details: Jean Nellie Miles Walker was born on the 16th November 1878 at Port Sorell, Tasmania. She was the youngest daughter of ten children born to Alfred and Louisa Walker. The year before she was born her parents lost 4 children, including twins, between the ages of 3 and 9 in the space of eight days from Diphtheria. Her father died in 1881 leaving her mother to raise four children, under the age of 7, alone.
She was privately educated until 1893¹, when she was one of the first students to enrol at the newly opened Collegiate School, Hobart, a private school started by an Anglican order of nuns. Jean did her nurse's training at Hobart General Hospital from 1903 until she qualified in 1906. She stayed on at Hobart General Hospital firstly as a Staff Nurse and later as a Sister until 1908 when she entered private nursing. In early 1913 she completed six months training in obstetrical nursing at the Women's Hospital, Melbourne, following which she served as Matron at private hospitals in Tallangatta, Victoria ² and Molong Private Hospital, Darlinghurst NSW.
Enlistment Details: In 1906 Jean joined the Australian Army Nursing Service which had been established on the 1st of July 1903. The AANS at that time was a Reserve Service staffed by volunteer civilian nurses who would be available for duty during times of national emergency. To be eligible to join a nurse had to have three years in training in a general or children's hospital of 100 beds. In the Australian Government Gazette on 24th April 1907 it was announced that Miss Jean Miles Walker of the AANS was to be Matron of the 6th Military District (Tasmania).
Details of her role in the war: Jean joined the AIF on the 27th September 1914, and embarked on HMAT Euripides from Sydney on the 20th October 1914, along with Matron Ellen Gould & Sisters Johnson, Frater, Elliot & Twynam. Her rank was Sister.
The ship landed in Alexandria on 4th December, 1914. In Egypt she did duty in various hospitals and during the first rush of casualties from Gallipoli she took charge of the 2nd Australian General Hospital at Mena House, Cairo. On 2nd September 1915 she went on transport duty on HMHS Gascon to Lemnos and Gallipoli. She then went to Salonika with No. 29 General Hospital. From here she returned to Ghezireh.³ She was then attached to the No. 1 Australia Stationary Hospital at Ismailia on 22nd January 1916 and awarded the rank of Temporary Matron while holding the appointment. On the 4th September, 1916 she joined the 15th General Hospital at Alexandria for temporary duty. She was transferred to the UK on the 25th September 1916 and on the 5th October 1916 was taken on ration strength with the 2nd Australian Auxiliary Hospital at Southall until she was attached to the 3rd Australian Auxiliary Hospital at Dartford. She was then promoted to be Matron at No. 3 Australian Auxiliary Hospital. Jean was Mentioned in Despatches in the London Gazette on the 1st December 1916 and awarded the Royal Red Cross (1st Class) in January 1917. She was presented with the Medal by the King in person on the 4th of February 1917 and afterwards attended Marlborough House at the request of Queen Alexandra.
In September 1917 she proceeded to France and to various hospitals in Abbeville and Dieppe before once again being posted to England where on the 19th October 1918 she was attached to the 2nd Australian Auxiliary Hospital at Southall. When working at the 1st Group Clearing Hospital at Sutton Veny, Wiltshire she fell ill with the 'Spanish Flu'. Jean died of Bronco Pneumonia on the 30th October 1918 in the British Military Hospital at Sutton Veny. 4 She was 39 years old.
Burial Details: St. John the Evangelist Churchyard, Sutton Veny Grave No. 15
Interesting Material:
'The Sydney Morning Herald' Monday 30th December 1918 pg 8
DISTINGUISHED NURSE'S FUNERAL
A description of the funeral of Matron Jean Miles Walker, of Sydney, who died in England after four years of very distinguished service, has been sent to his parents in Goulburn by Lieutenant. A. Carver who writes from Heytonbury, Wiltishire: -
Last week the matron of the hospital at Sutton Veny – a camp a couple of miles from here – died of this influenza that's getting about. We arranged to supply the gun carriage and horses to bear the coffin from the R.B.A.A. The funeral took place this afternoon. We had three officers driving and two cadets as brakesmen on the limber. I happened to be one of them. We moved off from Sutton Veny at the slow march – a terrible thing for horses to keep up – and we did the mile to the church in just under an hour. The two brakesmen walked behind the gun carriage, and walking alongside me was Captain Jacka, the Australian VC and MC and bar. The road was lined with thousands of Australians, and it made the funeral service even more impressive to see the way every man came up to the salute as the coffin passed – even little kiddies about 6 years old, seeing all the soldiers doing it, solemnly did the same. About 100 officers and 200 men attended, besides many others who came along, apart from the actual column of the slow march. I'm glad I had the privilege of going – it was most impressive.
¹ Jan Bassett, 'Walker, Jean Nellie Miles (1878 - 1918)', Australian Dictionary of Biography, Volume 12, Melbourne University Press, 1990, p. 362.
² Jan Bassett, 'Walker, Jean Nellie Miles (1878 - 1918)', Australian Dictionary of Biography, Volume 12, Melbourne University Press, 1990, p. 362.
³ Obituary 'The Sydney Morning Herald' Wednesday 25th December, 1918 p 6
4
Jan Bassett, 'Walker, Jean Nellie Miles (1878 - 1918)', Australian Dictionary of Biography, Volume 12, Melbourne University Press, 1990, p. 362.