John Nuss
John James Nuss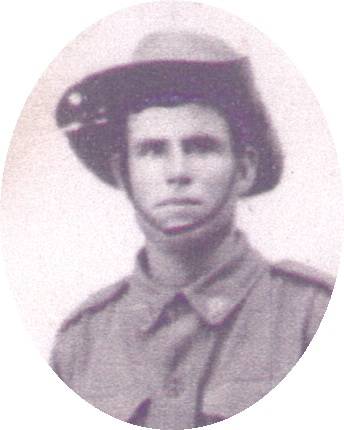 Rank: Private
Service Number: 2373
Units Served: 41st Battalion (Infantry)
Personal Details: James was born in Richmond, Queensland to parents Frederick and Mary in1888. He was a stockman by trade and was trained as a well borer. He was 5'11 ½ 'tall, with a dark complexion, brown eyes and black hair. He was a Roman Catholic.
Enlistment Details: John enlisted on the 10th May 1916 at Cloncurry, Queensland. He was assigned to the 4th reinforcement of the 41st Battalion.
Details about his role in War:
John left Australia from Brisbane on the 21st October 1916, aboard the Boonah, arriving in Plymouth on the 10th January 1917. The 41st Battalion was part of the 3rd Division which were known as the deep thinkers as they had waited longer to enlist than other divisions. He was marched in to the 11th Training Battalion on the 14th January. On the 25th February he was sent to hospital at Fargo and did not return to his unit until the 18th of March. He then left from England on the 3rd Anzac Day, 25th April 1917, arriving in Etaples the following day. He was then sent to the front on the 12th May and was taken on strength by his battalion two days later. On the 10th June he was wounded in action with a shot wound to the head. The battalion was at this time acting as carrier parties for other battalions in the new front line after the Battle of Messines a few days earlier. He returned to the battalion on the 12th July after hospital and convalescence unit treatment. On the 1st August he was again taken to hospital with myalgia. He returned to the battalion on the 10th. The battalion remained in the Messines region during this time. In September it moved to the Ypres area and took part in the Battle of Broonseinde Ridge on the 4th October. The following day, John was killed in action near Zonnebeke. He was either shot by a sniper through the head or was hit by shrapnel to the head. In either case he was killed instantly and was buried by Private B. Bunn in an unmarked grave. His body was not identified after the war and he is remembered on the walls of the Menin Gate in Ieper.
Date of Death: 5 October 1917
Age at Death: 28 years
Cemetery or Memorial Details: Ypres (Menin Gate) Memorial, Belgium