Johan Sjoberg
Johan Sjoberg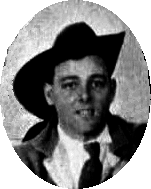 Rank: Private
Units Served:
B Section – 4th Field Ambulance
Johan's Swedish background gave him a fair complexion, grey/blue eyes and light hair. He was 5ft 5 1/2 inches and weighed 159 lbs. His time at sea left him with many sailor's tattoos. His left arm boasted a crossed union jack, stars and stripes, a mermaid, a lady with a snake, fisherman's arms, crossed anchor and sword, clasped hands and a pierced heart. He also had a scar on the right side of his groin.
Enlistment Details:
Johan enlisted at Morphett Vale on the 24th September 1914. He became a private and was posted to B Section of 4th Field Ambulance at 22 years of age.
Details about his role in War:
Johan embarked from Melbourne on the 22nd of December 1914 aboard the HMAT Berrima. His photo album shows him in training camps in Egypt before his company was moved to participate in the Gallipoli campaign.While situated in Gallipoli Johan was admitted to hospital with Influenza on the 28th of May 1915 but discharged later the same day. He was admitted to hospital again on the 5th of June but this time wasn't discharged until the 20th of July when he rejoined his unit at ANZAC cove. On the 23rd of February 1916 Johan went A.W.L from 5pm until 12.30 the next day. His punishment was to forfeit one days pay and all fatigues for one week. The 4th Field Ambulance moved to the Western Front, where they participated in the Battle of the Somme. Johan was bearing a stretcher when the man lying on the stretcher was shot and killed. The same bout of bullets hit Johan in the right leg. The man whom had been lying on the stretcher was lifted off. Johan took his place and was brought to safety. He was reported wounded in action on the 5th of September 1916. He embarked on the hospital ship 'Newhaven al'romurge' for England where he was admitted to Graylingwell War Hospital on the 30th of September 1916. He remained in the hospital until July of 1917. His photo album and signature book are largely made up of his time at Graylingwell. On the 16th of July 1917 he returned to Australia. He was awarded the 1914/1915 star, the British War Medal and the Victory Medal. He was permanently discharged on the 13th of February 1918.
Age at Death: Johan died of Tuberculoses on the 12th of May 1939 aged 47
Cemetery or Memorial Details:
Interesting Material:
In 1892 a boy named Johan Sjoberg was born in Sweden. He lived with his mother, Cecilia Sjoberg, father, Johannes Sjoberg and two sisters – Hildur and Sigrid. Cecilia became a widow very early on in the marriage when Johannes died of Tuberculoses in 1898. Johan was six years old at the time. His two sisters Hildur and Sigrid also died at a very young age.
The stories told by my family about Johan's early departure from Sweden go as follows. He liked to play the violin. Cecilia or 'Cissy' as she was more commonly known around Simrishamn was widowed and could barely support the two of them let alone buy him a violin or pay for the price of lessons. She therefore, in 1907, consented for her 15 year old Son to go to sea aboard a ship belonging to the Erickson Shipping Company. His uncle, Magnus Eneburg, was master of the ship. Cissy would have seen this as the best option for her young son.
The story goes that as the ship pulled away from the dock Cissy ran down the jetty waving a violin over her head. She had had a change of heart and sold all the family furniture in order to buy Johan a violin in the hope of keeping her last child with her. He watched his mother stand on the dock, wrapped in a long shawl, as the boat pulled away. This is an image that must have been strongly imprinted in his mind. The voyage from Sweden to Australia took five years. In this time Johan would have pulled into port at many different countries, seen many different sights and met many different people. It was quite a quick way for the 15 year old to grow up.
Throughout the journey Johan became seriously seasick and although his contract aboard the boat was not fulfilled he couldn't continue and so on the 1st of September in 1912 a now 20 year-old-man jumped ship in Port Adelaide with a Swedish ship mate. Johan walked from Adelaide to Milang where he found work as a foreman and tried to save money for a trip back to his mother in Simrishamn. For the next two years his two known addresses are Port Pirie and at 59 North Terrace in Adelaide.
He continually tried to save the money to return home to Sweden but couldn't. Instead in 1914 he volunteered for WW1, probably hoping to find his way home. In the process of his enlistment Johan applied for naturalisation. He filled in the application forms on the 22nd of September, his references were signed and authorised on the 24th of September and on the 11th of November 1914 he became an Australian citizen. In the mean time Johan was assigned to B Company of the 4th Field Ambulance and embarked for Egypt. From there he adopted the name of Jack amongst his Aussie friends as they found 'Johan Sjoberg' too much of a mouthful. 'Jack' took part in the Gallipoli campaign before moving to France and participating in the Somme where he was shot in the right leg while undertaking stretcher-bearer duties.
He was sent to England and admitted to Graylingwell War Hospital. This was a mental asylum that has been commandeered for the period of the war to be used as a military hospital. Johan's injuries provided him with a free ticket home from the war. He tried to use this ticket to get back to his home country of Sweden but officials would now allow this, as he was now an Australian Citizen. While at Graylingwell War Hospital Johan met nurse Daisy, the daughter of the Hospital's doctor. There are many photos of Daisy in his photo album and the story is that she wrote him letters once he was back in Australia asking him to return to England to be with her. However, fourteen days after returning to Adelaide Johan met my great grandmother, Rose 'Rosebud' Monk. They were engaged at Adelaide Oval and married.
Johan and Rosebud lived in Torrensville, and had four children; Lorraine, Roma, Joan and my grandfather, Bryan. Although Johan never returned home he was able to keep in contact through letters that were sent from Cecilia. Sometimes there were presents sent from Sweden for the grandchildren and a photo of Rosebud and Johan was sent back home to Sweden It sat in one room of Cissy's little yellow house. Apart from this photo she never saw her son again. On April 24th 1924 Cecilia died.
Johan worked as a medic at Adelaide Brighton Cement but had recurring problems with the wound in his right leg. He went to the Military Hospital at Keswick – it's now the navy headquarters – in relation to his leg. It was here that he caught Tuberculoses. The disease killed him on May 12th 1939 at the age of 47. My grandfather Bryan Sjoberg was six when Johan passed away. He has only a few memories of his father. Johan had also been six when his father died of the same disease 41 years earlier in 1898.
It's confronting how much of Johan's life was left up to chance. If Johan's father hadn't died at such an early time in Johan's life, or if his uncle's ship hadn't anchored at Simrishamn that day or if Johan had decided to jump ship at any other port than Port Adelaide or if Johan had been killed in Gallipoli or that bullet which hit him at the Somme had been a couple of inches higher or if he had been allowed to travel home to Sweden from the English hospital or if he had decided to stay with Daisy in England or if he had never met Rosebud upon returning to Australia or if they had not married, or if Johan had died six years earlier and Bryan was not born… if at any of these crossroads in Johan's life he had chosen a different path, my entire family would not exist. We owe everything to this man's amazing life.