Horace Tucker
Name: Horace Stewart Tucker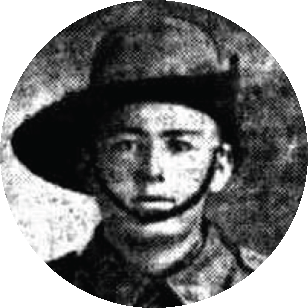 Units Served: 27th Infantry Battalion, 10th Infantry Battalion & 3rd Coy. Australian Machine Gun Corps.
Personal details:
Horace Stewart Tucker was born on the 18th December 1896 in Blumberg (now Birdwood). He was the youngest of eight children, seven boys and one girl, born to Samuel and Mary Matilda Tucker. Private Tucker was a builder and worked with his father. Horace had blue eyes, fair hair and a fair complexion.
Enlistment details:
Horace enlisted when he was 18 years and 9months on the 17th August 1915
Details about his role in war:
Horace embarked from Adelaide on the HMAT 'Benalla' on the 27th October 1915, with the 27th Infantry Battalion and disembarked at Gallipoli in late December 1916 where he was admitted to No. 1 Auxiliary Hospital at Heliopolis suffering from influenza. He was discharged to duty on the 11th January and admitted to the Overseas Base Training unit from where he was discharged on the 19th January to Zeitoun to rejoin his unit. On the 15th January 1915 he was admitted to the No. 4 Auxiliary Hospital at Abbassia suffering from Mumps from where he was discharged on the 2nd February 1916 to the overseas training base at Zeitoun to join the 10th Battalion.
He was then transferred from the 27th Battalion to the 10th Battalion at Serapeum on the 28th February 1916.
A few months passed and he proceeded to join the B.E.F the 27th March 1916 at Alexandria and embarked on the 'Saxonia'' disembarking at Marseilles on the 3rd April 1916.
He was transferred to the 3rd Australian gun coy on the 8th February 1917, taken on strength from the 10th Battalion.
On the 5th May 1917 he was wounded in action at the Battle of Bullecourt, and died from multiple gunshot wounds
Age at death: 20
Date of Death: 5th May 1917
Cemetery and Grave reference: Grevillers Military Cemetery, Grevillers, Plot 3 row D