Heinrich Pumpa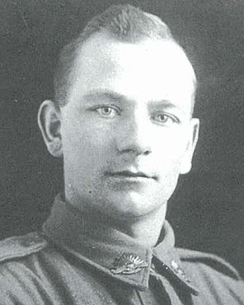 Name: Heinrich Alfred Pumpa
Rank: Lance Corporal
Unit Served: 27th Battalion

Personal Details:
Heinrich Alfred (Fred) was the son of John and Carolyn Pumpa of Eden Valley, born in 1895. He was a station hand.
Enlistment Details:
Fred enlisted at Adelaide on 27th March 1916. He was 20 years and 6 months old. He was 5'5", weighed 138 lbs, with brown hair and blue eyes. He listed his religion as Baptist.
Details of his role in the war:
In June and July 1916, whilst training in Adelaide, Fred suffered from measles and mumps on three separate occasions, and was admitted to the North Adelaide Auxiliary Hospital each time. Fred left Adelaide on 28th August 1916 on board the "Anchises" and arrived in Plymouth on 11th October. He then left Folkestone on the "SS Victoria" for Etaples on 13th December. He joined his Unit on 18th December. He was appointed Lance Corporal on 11th March 1917.
He reported sick on 23rd June and returned to England via the ambulance train on 9th July. On 14th September, whilst recuperating in England, he made a will in his paybook leaving all his money to his father. He returned to France to rejoin his Unit on 26th October 1917.
He again was wounded, a gunshot wound to the hand and shoulder on 10th June 1918, and was admitted to a casualty clearing station. He returned to England on 1st July, and was admitted to the Colchester Military Hospital the next day.
Fred went on leave from 30th July to 13th August 1918. On 22nd September he returned to France via Folkestone, and rejoined his Unit on 27th September. He was reported killed in action on 3rd October 1918. There are no Red Cross reports.
Age at Death: 23 years, 3rd October 1918
Burial Details: Villers Faucon Communal Cemetery
Grave Ref: IV.B.6