Frederick Mason
Name Frederick Rupert Mason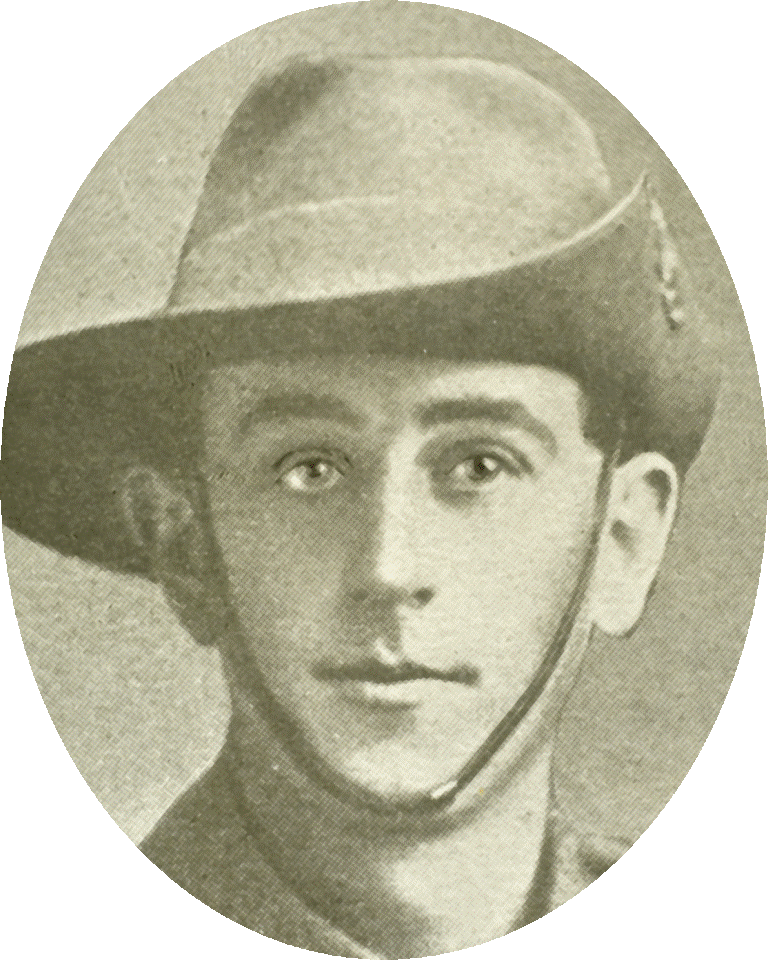 Units Served: 5th Pioneer Battalion
Personal Details:
Frederick Rupert Mason was born in 1896. Frederick was a son to George and Evangeline Mason. Frederick farmed with his parents on their farm near Wellington. His height was 5feet 11inches (155.7cm) weight 138lbs (62.6 kgs). The colour of his eyes were grey with brown coloured hair.
Enlistment Details:
Frederick was 20 yrs and 11 months when he enlisted On April 6th 1916
Details about his role in War:
On 21st Sept 1916, Frederick embarked from Adelaide and was admitted to ships Hospital with a "cold' on the 28th Sept, 1916 and was discharged 1st Oct 1916. Arrived in Devonport, England 14th Nov 1916. 14th Jan.1917 Sick to Parkhouse Hospital, Larkhill. 4th Feb.1917 marches in from Parkhouse Hospital. 28th Feb 1917 proceeded o/seas to France via "Golden Eagle." Arrived in Etaples 3rd March1917, marched out to join unit 5th Battalion. 24th April 1917 sick to Hospital "Scabies". 28th April 1917 discharged, 5th May 1917 rejoined 5th Pioneer Battalion. 23rd June 1917 Sick to Hospital, 7th Field Ambulance with Rheumatism D.R.S.. 3rd July 1917 rejoined 5th Pioneer Battalion. On 28th July 1917 Sick to 15th Field Ambulance Hospital Rheumatism & Teno Synovytis. 2nd August 1917 transferred to general hospital at Etretat with Myalgia. 21st August 1917 Rheumatism, Synovitis hand, was discharged to Base Depot at Havre. 9th August1917 marched in ex Hospital, 21st Sept1917 arrived England 23rd Sept at Depot4 Weymouth Codford ex France. On 7th Oct 1917 'Sick" to Camp Hospital "Scabies" 14th Oct Transferred from Camp Hospital to Hospital at Harefield 9th Nov 1917 discharged to Hospital Depot Weymouth. On 22nd Feb 1918 "sick to Hospital" Hurdcott with Arthritis and transferred to Military Hospital Fovant on 23rd April 1918 transferred to 1st Aux. Hospital at Harefield then discharged to Hurocott. On 4th May 1918 Transferred to Base Depot. On the 1st August 1918 "Sick to group Hospital" with "Influenza". On 11th August 1918 at 5.30am Frederick Rupert Mason Died of Cerebro Spinal Fever (Meningitis) at the Isolation Hospital at Salisbury, England. On 14th August 1918 Frederick was buried at Stratford –Sub- Castle Churchyard at Salisbury. Officiating Chaplain was Reverend G.S. Richmond and the undertakers were Roles & Son of 44 London Road Salisbury, England. His coffin was made of good polished Elm, with brass mountings. The late Private Mason was buried with full Military Honours with the Funeral proceeded by a Firing Party and Band. Six Comrades of Mason's acted as Pall Bearers. A beautiful Floral wreath was placed on his grave from the Officers, N.C.O.s and the men from No 4 Depot. The late Private Mason was very popular with all ranks of the Depot and was a true and good comrade.
Frederick when with his Battalion would have fought and helped to stop the German spring offensive in Belgium. Over all Frederick probably saw little action as he was quite ill through his time enlisted.
Age at Death: 22 years
Cemetery or Memorial Details:
135 Stratford-Sub-Castle (St Lawrence) Churchyard
Interesting Material:
Frederick's older brother, George Richard, also enlisted as Army Rank Sapper, Regimental Number 4094 with 27th Battalion A.I.F; he served overseas in World War 1. He was discharged from the army in 1916 and died in 1919 and is buried in West Terrace Cemetery, Adelaide.
Frederick was apparently quite the poet, his letters and post cards to Family had little poems that he had written. George Albert Frederick Mason, a nephew of Frederick Rupert Mason, has a funeral card that was given to mourners at Frederick's funeral, the poem on the card the family believes is one that Frederick had written before he had died. There are many nephews and nieces and great nephew and nieces with their families who still reside in Meningie and surrounding areas eg David & Elaine Swan &Family, Neil & Jan Swan &Family, Bill & Wendy Robinson and Bill's Mum Barbara Irene Robinson nee Mason lives in Adelaide. George Albert Frederick Mason, his nephew, married a Coad (a relative of Thomas Edward Lindsay Rhue; her Great Uncle) and served in World War 2 in 2nd Armoured Division in Transport and is 88yrs old retired and living at Loxton.