Frank Loader
Name: Frank Oliver Loader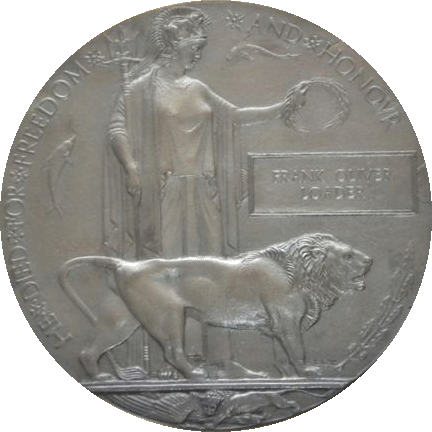 Units Served: 32nd Battalion
Personal Details: Frank Loader was the son of Timothy James and Hannah Loader, in Payneham on the 25th March, 1885. He had 4 brothers and 1 sister, one of whom, Percival, also died in World War 1. He attended the East Adelaide School, but then moved to Broken Hill where he was a book maker's clerk by trade. He was 5 foot 4 inches tall, with a fair complexion, blue eyes and brown hair.
Enlistment Details:
Frank enlisted in Adelaide on the 10th September 1915 at the age of 30 years and 6 months. He weighed 130 lbs.
Details about his role in War:
Frank left Adelaide aboard the "Militiades" on the 7th February 1916 and arrived in Suez on the 11th March. He was then taken on strength by the 32nd Battalion the 8th April. He left Egypt on the 17th June aboard the "Transylvania" and arrived at Marseilles on the 23rd June. He then travelled by train across France and moved to the Flanders region. Frank, along with the rest of the 32nd Battalion was involved in the infamous Battle of Fromelles on the night of the 19th /20th July 1916, the first major battle fought by Australian forces on the Western Front. After the battle, Frank was listed as missing in action. Later his identification disc was returned by German authorities who mentioned that he had died. He was then listed as "Killed in Action" on the 13th March 1917. His mother received his memorial scroll on the 27th January 1922, his memorial plaque on 27th July and his Victory Medal on 22nd February 1923.
For over 90 years he was one of the missing, with his name on the wall of the VC Corner Memorial at Fromelles. In 2009, 250 bodies were exhumed from a mass grave at Pheasant Wood near Fromelles, and DNA was recovered from as many as possible. Relatives of soldiers missing from this battle were asked to supply DNA samples as well so that identification of individual remains could be carried out. Frank Loader was one of the first 64 soldiers to be identified in such a way and was laid to rest in the Fromelles (Pheasant Wood) Military Cemetery. On the 20th July 2010, the 94th anniversary of the battle, the last of the 250 soldiers was laid to rest and the new cemetery was dedicated.
Age at Death: 31
Cemetery or Memorial Details: Fromelles (Pheasant Wood) Military Cemetery Grave 5