Edward Moore
Lieutenant Edward Kerruish Moore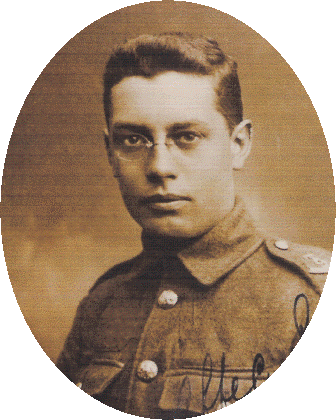 9th Battalion, Manchester Regiment
Interesting Information
Edward Kerrish Moore was born on the Isle of Man in 1895 to parents John Kerruish and Margaret Ann Moore. They were both teachers before they got married. Edward had three brothers Ernest, William and Arthur.
Edward grew up in the town of Bride on the Isle of Man until he and his family moved to Manchester in England after his father gained a teaching position at Edge Hill Teacher's College. His father then became headmaster at Holy Trinity School in Aston-under-Lyn which is also in Manchester.
After graduating from school Edward gained a scholarship to the London College of Art. At college he meet his intended future wife who became his fiancé.
Military History
There is not much information on Edward in the records.
We know the he enlisted in the 3rd reinforcement of the 9th Battalion, Manchester Regiment.
He became a Sergeant and then a Second Lieutenant then a full Lieutenant during his service in France. He was moved from the 9th Battalion to the 8th Battalion sometime during his service before possibly returning to the 9th Battalion before he was killed on 25th of April 1918 on the Front Line during the German Spring Offensive.
Cemetery Details
Edward is buried in Daours Communal Cemetery Extension
Grave Reference 3B 49