Andrew Walsh
Andrew Clement Walsh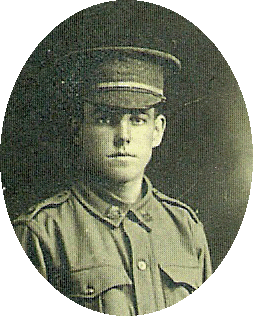 aka Richmond Ambrose Walsh
and Richard Andrew Walsh
Unit Served: 32nd Battalion.
Andrew Clement Walsh was born in 1898, to Michael and Mary Walsh, the 8th of their 11 children. He was born at Parkside and educated at Christian Brothers College and served with the Military Cadets.
He enlisted on July 13th 1915 in the 32nd Battalion aged 17. Being under age he used the name of his eldest brother, Richmond Ambrose Walsh (my grandfather). Enlisting with him was his brother Pte. Francis (Frank) Raphael Walsh, No.220, aged 20, and also in the 32nd. They sailed together for France on the HMAT Geelong on 18th November 1915. Also on board was Pte. Roy Pflaum. It is inescapable that they would have known each other.
After some months in Egypt the battalion transferred to France and their first major battle was the Battle of Fromelles, July 1916.
Richmond was badly wounded early in the battle and Frank who was with him, took him to the casualty station and returned to report to that "his brother would never be able to return to the firing line". Richmond was never seen or heard of again.
Richmond was reported missing on July 20th 1916. A letter in his army file from his mother, now widowed, dated July 2nd 1917 asks if anything further is known. She was formally notified of his death on September 7th 1917.
The family still hoped he would be found. A third brother, Pte. George Walsh No.12688, 11th Field Ambulance, served in France and never stopped looking for Richmond, hoping to find him among the unidentified wounded in the army hospitals. A letter from George to the army in March 1919 was still hoping for more information but in October the last hope was extinguished when the family was told no trace had been found among the records of prisoners-of-war in Germany.
My mother, the niece of these 3 soldiers, was 9 years old when they sailed off to war. Frank and Richmond came, in uniform, to say goodbye to their eldest brother and his family. Her indelible memory, handed down to us, was standing at her back gate, watching them walk away down the lane turning to wave as they turned the corner, then disappearing from sight. Two young men, boys really, of 17 and 20. She never forgot Richmond and passed his photo and story on to her own family with the words "Don't forget him".
This is his story as told by his Great Niece Lyn Sharp.