Albert Rowney
Name: Albert Ross Rowney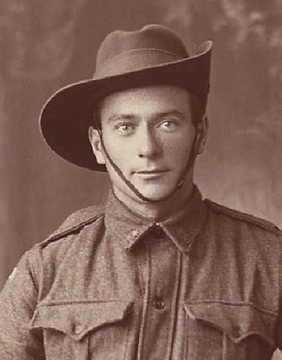 Unit Served: 10th Battalion
Personal Details:
Albert (known as Ross) was born in 1893 at Campbelltown to Edward and Ann (nee Casson) Rowney. He was one of ten children. His father was a carpenter, undertaker, Postmaster and Registrar of Births, Deaths and Marriages. Albert was a carpenter by trade but would also have worked on the family market garden, with his brothers.
Enlistment Details:
Ross enlisted at Adelaide on 12th August 1915. He was 21 years and 9 months old. He was 5'5", with dark hair and blue eyes, weighing 136 lbs. He listed his religion as Methodist.
Details of his role in the war:
After enlisting, Ross left Australia aboard the "Benalla" on 27th October 1915 and was sent to Egypt. He left for England on 18th July 1916, and then on to France on 11th August, to finally join his Unit on the 23rd of that month.
On 11th May 1917 Ross was wounded, and admitted to hospital. He was released on the 28th June and rejoined his Unit on 2nd July. He spent a much-earned break of a fortnight's leave in England from 22nd September to 6th October. But by the 13th October he was reported missing in action. Six months later he was reported killed in action.
Reports compiled by eyewitness statements revealed the truth. On 8th October 1917 Ross had been on Westhock Ridge in a dugout with several other soldiers. When a shell fell amongst them, he was wounded in the left leg and arm. He started to walk back to the lines, telling the stretcher bearers there were men in the dugout who were injured. But the road on which he travelled was heavily shelled and he was not seen again.
His personal effects consisting of 5 books, a pair of glasses in a case, fly nets and a scarf were returned to his mother.
As a boy, my Grandfather was told the story that Uncle Ross was hit by shrapnel. When the medics came to help him, he suggested they first take another fellow lying nearby who was much worse off. He said he would wait until they came back, as he wasn't going anywhere. When the medics did come back, they couldn't find him, as in the meantime he had been blown up by another blast. The story had been altered slightly as it was handed down through the generations.
Age at Death: 23 years, 8th October 1917
Burial Details: Menin Gate
Image from teh Virtual War Memorial of Australia