William Leggett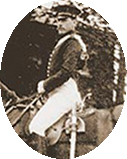 Name: William Thomas Leggett
Rank: Corporal of Horse
Service Number: 2880
Units Served: 1st Life Guard
Personal Details: William Thomas Leggett was born on the 26th of January 1891 in the City of Lithgow, New South Wales. He was the eldest of eleven children born to George and Caroline Leggett.
Enlistment Details: It is not known when he enlisted but it was sometime in 1912 when he enlisted in the 1st Battalion of the King's Life Guards for the British Army.
Details about his role in War: Sometime in 1912 William became part of the 1st Battalion King's Life Guards. After 2 years there he was advanced to a Corporal of Horse.
William was the youngest Corporal of Horse in the Life Guards and had been selected to post ceremonial duty for the King. This duty included Horse Guards in London.
In July 1914 an attack on Belgium saw regiments of the household division dispatched to Northern France and Belgium. The King's Life Guards, led by the 1st division were also sent. This included William.
On October 14th 1914 William was shot and fell from his horse after they encountered a small German force.
Age at Death: 23
Memorial Details: Harelbeke New British Cemetery
Interesting Material:
Entry to the King's Life Guard's was restricted and he got in without credentials. He got engaged over there to Rose Gunnell.