Robert Heath
Name: Robert Andrew Heath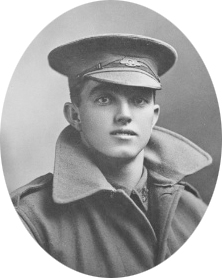 Rank: Lance Corporal
Service Number: 968
Unit Served: 43rd Battalion
Personal Details: Robert was born on the 12th of April, 1896 in Wallaroo, South Australia to Mary Elizabeth and William Heath. He went to school at Wallaroo but the family moved to Pt Lincoln. Before enlisting Robert was an Assistant Harbour Master and played in the Port Lincoln Brass Band. He had 10 siblings. His youngest sister was the 11th child. She was born after his death and was named Roberta after him. He was 5' 5 ¼" tall, he weighed 139 lbs and had a fair complexion, hazel eyes and dark hair.
Military Details: He attended 8 months of Senior Cadets before enlisting on the 10th of September, 1915, when he was 19 years and 5 months old. He was assigned to the 43rd Battalion on its formation on the 16th March, 1916. He spent time at training as a signaler and was promoted to Lance Corporal on the 2nd June. He left Adelaide aboard the "Afric" on the 9th June 1916 and arrived in Marseilles on the 20th July. From here he travelled by train across France to Le Havre and from there sailed to England. He then trained at Lark Hill in Wiltshire for 4 months after which he returned to France on the 25th November. He then spent time at the front line and in support near Armentieres until he was then detached to Signalling School on the 5th March 1917 and then returned to the 43rd Battalion on the 18th April. He would have been involved in the opening fighting of the Battle of Messines on the 7th June when the Allies blew 19 huge mines under the German lines. He was then killed in action on the 26th June 1917 during further fighting known as the "Eighteen Day Stunt" near Messines. Apparently he was killed by a direct hit by a shell and was buried in a shell hole in the Au Bon Fermier Cabaret Gully just south west of the town of Messines. His grave was not recovered after the war and he his remembered as one of the 55000 Allied soldiers who have no known grave whose names are on the walls of the Menin Gate in Ieper.
Date of Death: 26th June 1917
Age at Death: 21
Memorial Details: Menin Gate, Ieper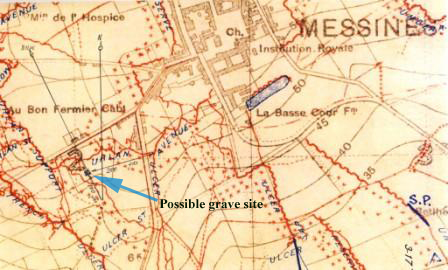 This map shows the likely burial site of
Robert Heath near Messines in Belgium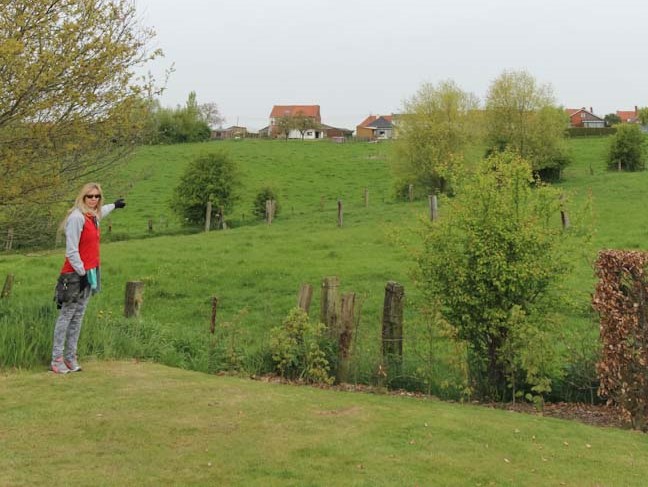 Sandy Harvey, Robert's Great great great niece pointing to the paddock where he was buried. (2015)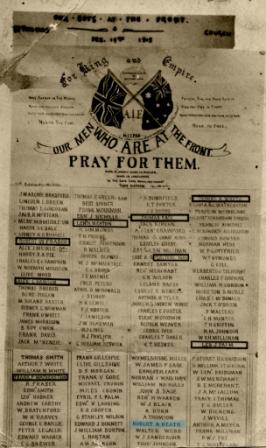 A postcard asking people to
pray for the men of Pt. Lincoln
who were fighting in WW1.
Robert's name is highlighted in blue.