Richard Blain
Richard Blain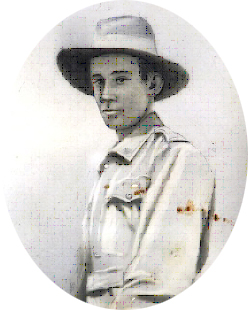 Rank: Private
Service No: 2766
Units Served: 32nd Battalion (17/1/16-30/8/17) 29th Battalion 30/8/17- 27/9/17
Personal Details: Richard Blain was born Reginald Bain at the Adelaide Destitute Asylum on 23rd April 1896. He was one of several illegitimate children born to Winifred Bain/Bean. His putative father is recorded as James Robinson (deceased). On 10
th
May 1899 a warrant was issued for the arrest of Winifred Bain for neglecting her child
Dickey Bain.
On the 4th May 1899, at a court of committal Dickey Bain aged 3 years and 1 month was "sentenced to the Industrial School till 18 years as a neglected child being illegitimate". On the 14th of June 1899 he was fostered out to Miss Sarah Norsworthy of Gumeracha and some time between then and 1903 he was transferred to the guardianship of Sarah Norsworthy's brother Frank and his wife. From then on he was known as
Richard Blain.
Enlistment Details: He enlisted on the 17th January 1916 in Adelaide and was posted to the 32nd Battalion as a private. He was 19 years and 8 months old.
Details about his role in the War: He embarked at Adelaide on HMAT 'Shropshire' on 25 March 1916. He disembarked HMAT 'Anchises' at Suez on 15 April 1916. From the 16th -21st June he was in hospital in the Middle East. On 29th June 1916 he disembarked ex 'Ivernia' at Marseilles he was taken on strength on 8th August 1916. From the 27th November 1916 to the 7th June 1917, when he rejoined his unit in France, he spent most of his time in hospital in both England and France with trench feet and scabies. On the 30th August he was detached to 8th Infantry Brigade, 32nd Battalion, where he was wounded in both legs and his right hand on 25th September 1917 and died of his injuries on 27thSeptember 1917.
Age at Death: 21 years
Memorial Details: Lijssenthoek Military Cemetery XXIV.D.4
Interesting Details: Despite this being a time when foster children were often used as cheap labour, the Norsworthy family seemed to have a genuine care and affection for Richard. This is shown in the correspondence with the War Dept. after his death and with their commissioning a memorial plaque which now hangs in the Gumeracha & District History Centre.