Clarence Padman
Name: Clarence Swann Padman

Rank: Private

Service Number: 6891

Unit Served: 8th Field Ambulance, 15th Field Ambulance, 8th Machine Gun Company

Personal Details: Clarence was my Great uncle. He was born in Middleton on the 25th of May 1893 to parents Samuel Waterhouse and Elizabeth Jane Padman. He started his schooling at Middleton but then moved to Adelaide and boarded with his aunty while he studied at Norwood High School. He later went to Adelaide High School before studying at the University of Adelaide. He became a teacher and began teaching at Norwood School before being appointed to the staff of Moonta High School. He was 5 foot 5¼ inches tall with a fair complexion, blue eyes and fair hair.
Enlistment Details: Clarence enlisted on the 7th of June 1918 at the age of 22 years and 1 month at Keswick. He was assigned to the 8th Field Ambulance.
Details of War Service: Clarence sailed from Adelaide aboard the "Geelong" on the 18th November 1915 and arrived in Suez on the 18th December. On the 3rd February he contracted influenza and was transferred to the 2nd Casualty Clearing Station at Ferry Post. He returned to duty on the 7th of February. On the 24th he was transferred to the 15th Field Ambulance. On the 19th June he left Egypt aboard the "Canada" and arrived in Marseilles on the 28th June. On the 31st August he was transferred to the 8th Machine Gun Company. And 3 months later on the 29th November he was killed in action at the Battle of Flers.
He was buried between Guedecourt and Le Transloy, 3 ½ miles north of Combles. After the war his body was re-interred in Bancourt British Cemetery,
Age at Death: 23
Date of Death: 29th November 1916
Cemetery Details: Bancourt British Cemetery Plot IV, Row K, Grave 1
Interesting Material: He was engaged to Daisy Steadman, who never married after losing her loved one in the war. She spent every Anzac Day, until she died, at Horseshoe Bay, where they had spent so much time together before he left for the war.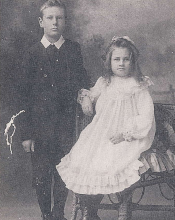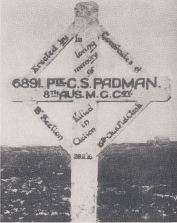 Clarence and his sister Clarence's Grave during the war