William Goldfinch
Name: William Charles Goldfinch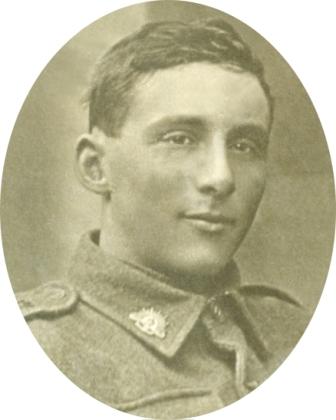 Rank: Private
Service Number: 3110
Units Served: 10th and 50th Battalions
Personal Details: William Goldfinch was born in Pt. Vincent, South Australia, and was living in Meningie when he enlisted. He was born in January, 1897, to William and Bessie Goldfinch. He had a brother and a sister. He was a farmer in the district before he enlisted. He was 5'8" tall with fair hair, brown eyes and brown hair and weighed 144lbs.
Military Service: William enlisted on the 18th July 1915. He was originally assigned to the 10th Reinforcement of the 10th Battalion, and embarked Adelaide aboard the "Ballarat" on the 14th September. He was taken on strength by the 10th Battalion on Mudros on the 10th December. He then was shipped to Alexandria on the "Seeang Bee" ariving on the 29th December. He was transferred to the 50th Battalion during the reorganisation of the AIF on the 27th February, 1916. William left for France aboard the "Arcadia" on the 5th June, arriving in Marseilles on the 12th. The first action that the 50th Battalion saw was at Mouquet Farm near Pozieres from the 13th to the 15th August, 1916. During the night of the 15th / 16th of August, William Goldfinch was hit by a shell. Some reports state that he was wounded but couldn't move, while others stated that his head was blown off. Never the less he was killed in the trenches and was buried in an unmarked grave. He was reported missing until a court of inquiry on the 1st June 1917 officially declared him killed in action.
His mother received conflicting reports of his fate and convinced herself that he had not been killed and had just lost his memory. As a result she moved from Naracoorte, where the family had gone to live, back to Meningie in case he returned to the last home that he knew.
His body was recovered in 1928 and buried in Serre Rd Cemetery No. 2 near Beaumont-Hamel.
Age at Death: 19
Date of Death: 16th August, 1916
Cemetery Details: Serre Rd Cemetery No. 2, Plot XV, Row F, Grave 14