Thomas Rhue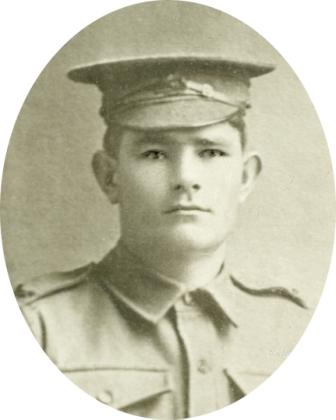 Name Thomas Edward Lindsay Rhue
Units Served: 10th Battalion (Infantry)
Personal Details:
Thomas Edward Lindsay Rhue was born in 1896 at "Trunkend" the Family property. This property was on the 7 Mile Road overlooking the Coorong. He was 5feet 9 ½ inches (179cm) tall with a medium complexion, hazel colour eyes and dark brown hair. He weighed 143lbs (64.8kg) and had a heart shaped tattoo on his left forearm and a shamrock on his right forearm
Enlistment Details:
Thomas was the 6th child of Walter & Rebecca Anne (known as Anne) of Meningie. On April 12th 1916 in Adelaide at the age of 21yrs & 8 months he enlisted into the 10th Battalion 1st of the A.I.F, together with his brother John Alfred Eligah James Rhue. In his early years before enlisting he was a farm labourer as well as helped out on his Family Farm.
Details about his role in War:
Thomas left Port Melbourne on 20 Oct 1916 and on 28 Dec 1916, arrived at Devonport, England. Before he could proceed to France he became ill and was in hospital from the 10th to 28th of March, 1917. On 29 March 1917 Thomas marched into Etaples to join 10th Battalion in France, arriving on 1st April. On the 12th July he again fell ill and was again in hospital from till 24th July. On 20th Of September 1917 during the battle of Menin Road, an important battle for Australian Troops and very expensive in terms of lives lost Thomas was wounded in action with a single gunshot to his right shoulder. He was transferred back to England on 25th Sept 1917 for treatment. On the 11th Oct 1917 he discharged and given 2 weeks furlo. He arrived back in France on 28th Nov 1917, then onto Havre 2nd Dec 1917 and proceeded to join 10th Battalion arriving 8 Dec 1917. He remained with the battalion for the remainder of his life. On 12th July 1918 Thomas was appointed Lance Corporal. Sadly after many bloody & tiring battles L/C Thomas Rhue was killed in action on 10th August 1918 in France, during the Battle of Amiens. His remains are in the Heath Cemetery, Harbonnieres. The Heath Cemetery is on the south side of the straight main road from Amiens to St. Quentin, about 13kms from Villers-Bretonneux. Harbonnieres was captured back from the Germans by French Troops in the summer of 1916 but the Germans were able to retake this area again on 27th April 1918. The Australian Corps recaptured this area on 8th August 1918, two days before Thomas was killed.
Age at Death: 24
Cemetery or Memorial Details:
FRANCE 526 Heath Cemetery Harbonnieres (plot VII Row 1 Grave 15)
Interesting Material: Thomas had two brothers who also enlisted in the A.I.F. John Alfred Eligah James enlisted but never left Adelaide as he died of Bronchial Pneumonia, tonsillitis & measles and is buried in West Terrace Cemetery. Henry Earnest Nelson enlisted on 16/11/16 served overseas and returned to Australia on 12/8/19. Thomas is a brother to my Great Grandmother and so this makes him my Great great Uncle. There are many relatives that live in the Meningie and Southeast parts of South Australia including the Appelkamp's, Ayres', Coad's, to only name a few.. This includes Mr Neville Rhue who is a nephew of Thomas, as Neville's Father was Thomas' baby brother Norman. Neville still lives along the Coorong on a property at Salt Creek.