James Gurr
Name: James Henry Gurr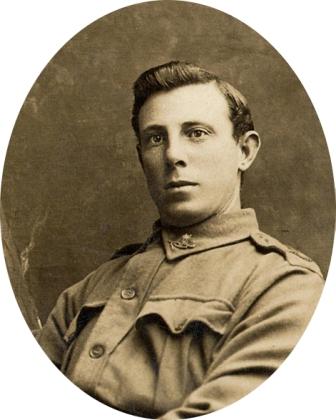 Personal Details:
James Henry Gurr was born in 1885 in Adelaide South Australia. His parents were George Henry and Sarah Gurr. He was married to Lily Adelaide Gurr and had 2 children Victor Henry Charles Gurr and Lily Elsie May Gurr
Enlistment Details: James Gurr joined the army on 17/12/1915 at Hindmarsh. He had previously been rejected from the AIF because of his vision.
Rank: Private
Service Number: 5106
Units Served: 10th Battalion
Details about his role in War: He embarked from Adelaide on the 25th of March 1916 on the "HMAT Shropshire". After training in England he proceeded to France on the 22nd October 1916 and was "taken on strength" to the 10th Battalion on the 16th November. He was killed in action on the 13th December 1916 near Flers in France, either by High Explosive shell or shot by a sniper.
Age at Death: 29
Memorial Details: Villers-Bretonneux
Memorial Details: Memorial Panel 69
Interesting Material:
His death had a big impact on the family, Lily Gurr was only 21 when James Gurr died leaving her to raise her two children, a 2 year old and baby who was 6 months old. Victor, James's oldest child had to find a job at the age of 14 to help support his mother and sister.