George Lintern
George Thomas Lintern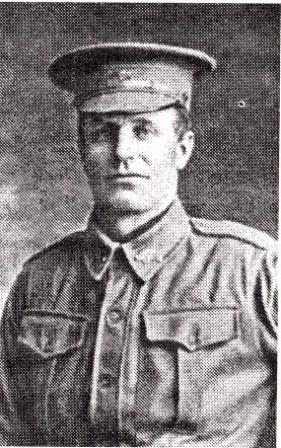 George was born in Tungkillo and farmed there until he enlisted on the 26th March 1917 at the age of 38 years and 10 months. His next of kin was his mother, Bettsey and his father, Thomas.
He was 5' 9 1/2" with a chest measurement of 35 ", dark complexion, hazel eyes and fair hair.
On July 16th, 1917 he embarked on the "Pt Melbourne" from Sydney, arriving in Liverpool on September 16th. On December 30th of that year he was taken on strength by the 43rd Battalion, 1st AIF.
On 10th April 1918 he received a gun shot wound to the arm and returned to England for treatment. He then returned to his unit on the 13th of July.
On the 22nd of August near Bray on the Somme River, George was Killed in Action. Although he was buried where he fell approximately 2100 yards west of Bray, his grave was not recovered and he is commemorated on the wall of the Australian National Memorial at Villers-Brettoneux.