Cyril Rigney
Name: Cyril Spurgeon Rigney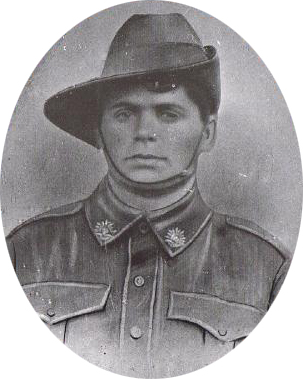 Personal Details:
Born 22nd February 1897. Son of Ben Rigney and Rachael Disher. Brother to Rufus Rigney. Cyril married Constance Maud Varcoe on 17th January 1916 at Point McLeay. His daughter Aileen Martha was born after he left for war on the 22nd December 1916. Cyril was a labourer in his hometown of Pt. McLeay.
Enlistment Details: He enlisted on the 26th April 1916 in Adelaide aged 19 years and 2 months.
Rank: Private
Service Number: 2042
Units Served: 50th and 43rd Battalions
Details about his role in War: He embarked from Adelaide on the 12th of July 1916 on the HMAS "Seeang Bee" and arrived in Plymouth in England on the 9th September 1916. He proceeded overseas to France form Southampton on the 25th November 1916. He was taken on strength by the 43rd battalion from the 50th on the 11th September 1916.
It was recorded that on the 18th November 1916, he committed a crime of neglect of duty in that he failed to keep his rifle in a clean and serviceable condition.
Cyril was admitted to a hospital in the field with influenza on the 10th March 1917.
He rejoined the 43rd on the 15th of March and then was killed in action on the 3rd of July.
Age at Death: 20
Memorial Details: Ypres (Menin Gate)
Anecdotal Material:
Cyril, being indigenous and under 21, required permission from the Protector of Aboriginals to enlist for war. Cyril's war pension was awarded to his daughter Aileen. This was held in trust for her and she needed to apply to the Repatriation Dept to access it as she required. She was the only child of a KIA soldier known to have had to do so.