SERGEANT HARRY GASCOYNE
Service Number 11522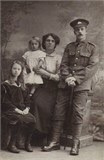 8th Battalion Lincoln Regiment
Died: 1st October 1917
Remembered at the Tyne Cot Cemetery
Harry went to the war with his friend Thomas Nottingham Bunn, both Lincoln lads. They formed a very strong friendship during the time they were together, in fact so strong that Tom promised Harry who had a wife and two children that if anything happened to Harry and he survived, he would take Harry's belongings back to Lincoln and make sure that his wife and two girls would be looked after. 102 years ago on the 1st October 1917 after four days of constant shell attack, the 8th Lincolnshire Regiment was ordered to charge at the Battle of Polygon Wood. Harry, by now was a Colour Serjeant, was in charge but he and around 260 other Lincoln lads fell to machine gun fire and flame throwers before they advanced much more than 20 yards from the trench. Tom Bunn though made it to the end of the war and kept his promise returning to Lincoln with Harry's few belongings and eventually, after, a long courtship he married Harry's widow, Annie and brought up the two girls, Evelyn and Gladys, as his own. He was however always known as Uncle Tom to everyone in the family.
Harry's daughter Gladys was my friend Lynne's grandmother. Both Lynne and Paul, her husband, are friends of mine from Whyalla teaching days. I taught one of their daughters. We've always kept in touch. When they visited me in Lobethal last year I heard this beautiful story and told them I'd commemorate Harry at Tyne Cot. It really is a privilege to be here today.
Paul sent me all the information he had because he'd researched his wife's family history.
Dear Harry was Lynne's great grandfather who she never met. Paul told me that he met Uncle Tom in the early 1970's. He spoke to him and found him to be a lovely, unassuming man. At that stage he hadn't done the research and wished that he had known the story of the friendship between the two soldiers.